King Salman Humanitarian Aid and Relief Centre (KSRelief) and World Health Organization (WHO)
By Dr Ahmed Al-Mandhari, WHO Regional Director for the Eastern Mediterranean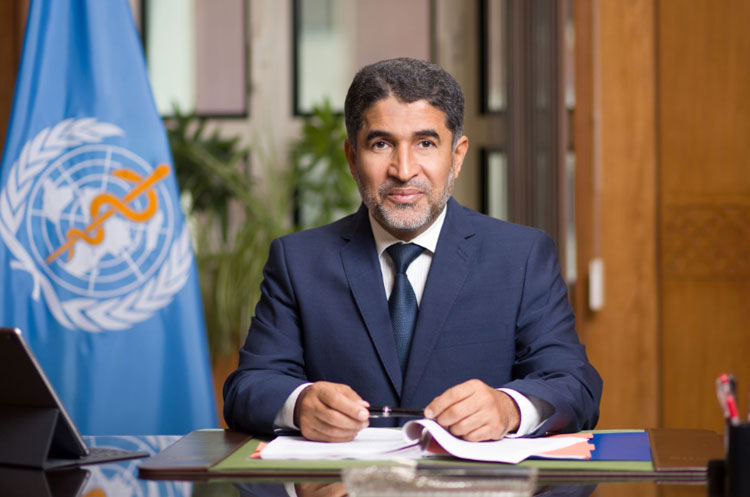 The Eastern Mediterranean Region is a dynamic and diverse world region with challenging social, economic and demographic conditions. Countries of the Region vary greatly in terms of income, from among the world's highest to the lowest. While some enjoy cutting-edge technology, others lack access to water, sanitation and electricity. The World Health Organization (WHO) Regional Office for the Eastern Mediterranean has a vison to achieve health for all by all so that everyone in the Region can enjoy a better quality of life.
Unfortunately, crises are a defining feature of our Region, directly or indirectly affecting nearly two thirds of its countries. In some countries, emergencies have reversed the hard-won health gains of previous decades. Vulnerable groups such as women, children, and people with disabilities, displaced populations, refugees, migrants, nomadic groups and inhabitants of rural and urban slum areas are particularly exposed to the effects of emergencies.
As WHO Regional Director, one of my priorities is to strengthen partnerships with professional organizations, civil society and local communities to protect people's health, build strategic alliances and ensure effective engagement for health among individuals, experts, champions, organizations, academia, the private sector, civil society and regional foundations.
In this respect, our partnership with the King Salman Humanitarian Aid and Relief Centre (KSRelief) is a prime example. To date, KSRelief has funded eight active WHO projects worth up to US$ 43 million in Yemen to support WHO's efforts to contain the epidemic of cholera in the last two years. In addition, US$ 2 million have been provided to support Sadr Hospital in Bangladesh.
In April this year, a Joint Cooperation Partnership (JCP) was signed by WHO's Director-General, Dr Tedros Adhanom Ghebreyesus, and the Supervisor General of KSRelief, His Excellency Dr Abdallah Al-Rabeeah, to further strengthen the relationship between WHO and KSRelief.
WHO has the highest level technical know-how in health and KSRelief has a human aid and relief mandate. We can work together to cover the health needs of people in countries facing emergencies in the Region and reduce their suffering towards achieving health of all by all, insha'Allah.
Active projects

Number

Country

Project

Amount (US$)


1

Yemen

Oxygen stations project

1.4 million

2

Cholera

8.2 million

3

Cholera (Treatment)

22 million

4

Cholera (Coordination)

0.7 million

5

Cholera (Diagnosis)

1.1 million

6

Cholera (Surveillance)

5.8 million

7

Cholera (Prevention)

4 million

8

Bangladesh

Sadr Hospital

2 million

Total:

45 million

Proposals in the pipeline

1

Syrian Arab Republic

Vaccine-preventable

3.3 million

2

Somalia

Cholera

4 million