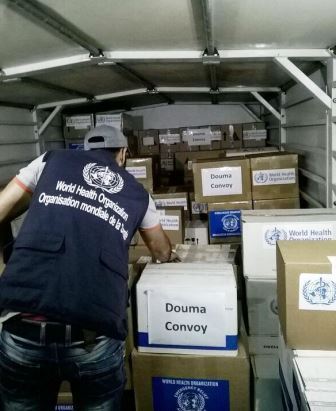 13 June 2016 – Despite security challenges, WHO continues to reach people in besieged and hard-to-reach areas in Syria with health humanitarian assistance. These sites include Duma, Syria, where impediments to proper water and sanitation services have resulted in poor living, hygiene and sanitation conditions, as well as a lack of access to emergency and chronic disease medications and medical supplies. 
On 10 June, 2016, WHO delivered as part of an interagency convoy more than 5 tonnes of lifesaving treatments, enough for over 95 000 treatment courses. The medical supplies included medicines for urgent care, such as insulin and emergency health kits, as well as for noncommunicable diseases, such as diabetes and high blood pressure. Antibiotics, pain medications, nutrition supplies and medical instruments and equipment for use in small clinics and hospitals were also included. 
This was the first inter-agency convoy to Duma in Eastern Ghouta, Rural Damascus since May 2014. WHO had, however, independently entered Duma in February 2016 in collaboration with the Syrian Arab Red Crescent, when it delivered supplies for 250 haemodialysis sessions. "Unhindered and sustained access to the people in need will enhance the provision of lifesaving treatments and save more lives across the country," said Elizabeth Hoff, WHO Representative, Syria.
WHO continues to appeal for unhindered access and non-removal of medical items intended for people in need across Syria.