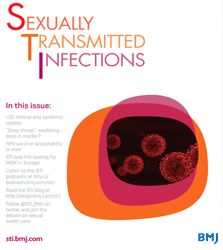 4 November, 2013 – A dedicated supplement of key scientific studies on the HIV epidemic in the Middle East and North Africa (MENA) region was published today in the journal of Sexually Transmitted Infections. The studies provide critical evidence from the field on the status of the epidemic in the MENA region and showcase the progress of HIV research in this region over the last few years. The selection of published studies was based on originality and potential to impact policy and programming.
The journal is delighted to support this important publication which attests to the wealth of sexual health research emerging from the region. As an international journal, we hope that recognition of this work will lead to new and increasingly effective programmes of HIV and sexually transmitted infection prevention and care in the region and beyond," said Professor Jackie Cassell, Editor in Chief of Sexually Transmitted Infections.
The publication is the result of concerted efforts by a number of individuals and organizations for over two years. These efforts were spearheaded and funded by the WHO Regional Office for the Eastern Mediterranean, the Middle East and North Africa Regional Support Team of UNAIDS, the Joint United Nations Programme on HIV/AIDS (UNAIDS MENA), and the Weill Cornell Medical College, Qatar.