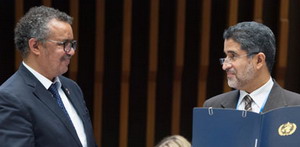 28 May 2018 | Geneva – The World Health Organization's Executive Board, currently holding its 143rd session in Geneva, has appointed Dr Ahmed Al-Mandhari of Oman as WHO Regional Director for the Eastern Mediterranean, following his nomination by a special session of the Regional Committee for the Eastern Mediterranean on 19 May, 2018.
Dr Al-Mandhari will take up his appointment for a term of 5 years and 8 months starting on 1 June 2018.
In his acceptance speech, Dr Al-Mandhari extended his thanks and appreciation to the members of the WHO Executive Board and the Regional Committee for his nomination and appointment as WHO Regional Director, and for giving him an opportunity to implement his agenda for change towards a stronger and healthier Region.
"I will begin working with countries immediately because I believe WHO should be very close to its Member States. Facilitating that presence is one of my top priorities. No tangible change can be made if we are far away from the areas where change is needed," said Dr Al-Mandhari.
The new WHO Regional Director noted that the Region is passing through a critical era, marked by natural and manmade crises which have led to destruction of infrastructure and a deterioration in the health and living conditions of many people, particularly displaced populations and refugees. He emphasized that every effort must be made and all available resources mobilized to find appropriate solutions to these challenges.
Dr Al-Mandhari named the United Nation's Sustainable Developmental Goals, universal health coverage, the International Health Regulations (2005) and WHO's Thirteenth General Programme of Work as among the key forces that would drive interventions during his term.
He also identified 4 priority technical areas for his agenda: tackling health emergencies including disease outbreaks; improving control of communicable and noncommunicable diseases and their risk factors; strengthening health systems to achieve universal health coverage through a primary health care approach, with a special emphasis on family practice; and improving maternal and child health.
Furthermore, he emphasized that no effort should be spared to strengthen coordination and collaboration mechanisms with United Nations agencies, developmental partners and nongovernmental organizations.
"My goal is to see WHO full of life, energy and enthusiasm. I would like to see staff at different levels of this Organization working together as a strong, productive team to provide the highest level of support to Member States," he said.
Dr Al-Mandhari has made a substantial positive contribution to the development and modernization of Oman's health system, which has witnessed qualitative improvements in recent years, particularly in areas such as patient safety.
A specialist in family and community medicine, Dr Al Mandhari was Head of Quality Management and Development at Sultan Qaboos University Hospital from 2005 to 2006, followed by Deputy Director-General for Clinical Affairs until 2010. In 2013, he was appointed Director-General of Sultan Qaboos University Hospital, later becoming Director-General of the Quality Assurance Centre at the Ministry of Health. Dr Al-Mandhari has also worked as a senior consultant in family medicine and public health in Oman since 2009.
Dr Al Mandhari's research papers have been widely published and he serves on the editorial boards of several journals, including the "Middle East Journal of Family Medicine", in addition to working as a reviewer for various medical journals. He has served on scientific and professional committees and lectured in various academic institutions in the fields of quality management, patient safety, family medicine and public health.
Dr Al-Mandhari obtained a BSc in Health Sciences (1990), followed by an MD in Medicine and Surgery (1993) from Sultan Qaboos University in Oman. In 1996, he gained a Diploma in Tropical Medicine and Hygiene from the Liverpool School of Tropical Medicine in the United Kingdom and was awarded the Royal Fellowship for Family Doctors in 1998. In 2002, he obtained a PhD in Quality Management in Health Care from the Liverpool School of Tropical Medicine. Dr Al-Mandhari oversaw the Fellowship Programme in the Department of Family and Community Medicine (FAMCO) at Sultan Qaboos University from 2003 to 2006.
Dr Ahmed Al-Mandhari's acceptance speech at the Executive Board
For more information:
WHO Regional Office for the Eastern Mediterranean
Cairo, Egypt
Omid Mohit
Technical Manager
Media and Communications
Tel: +20-2-227-65355
Mobile: +20-106-881-3340
Email: This e-mail address is being protected from spambots. You need JavaScript enabled to view it
Mona Yassin
Communications Officer
Media and Communications
Tel: +20-2-227-65020
Mobile: +20-100-601-9284
Email: This e-mail address is being protected from spambots. You need JavaScript enabled to view it
WHO Headquarters
Geneva, Switzerland
Fadéla Chaib
Coordinator a.i, Media, Social Media & Monitoring
Department of Communications
Tel: +41227913228
Mobile: +41794755556
Email: This e-mail address is being protected from spambots. You need JavaScript enabled to view it