Amman, 27 February 2012 – The Ministry of Higher Education and Scientific Research and the Ministry of Health of Iraq, in collaboration with the World Health Organization (WHO), are conducting a three-day workshop on the accreditation of health professions education, with a special focus on medical education, from 27 to 29 February 2012 in Amman, Jordan. The workshop aims to strengthen Iraq's national system of accreditation and assure its compatibility and harmonization with global standards.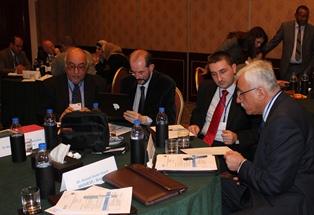 Working for a better accreditation system forthe prinicples of social accountability (MoH 2012)

Dr Sattar Jabar Ghaniem, Senior Advisor to HE the Minister of Higher Education and Head of the Supervision and Scientific Evaluation Office, said, "Accreditation is recognized worldwide as a tool for maintaining and continuously improving the quality of education, institutions and their programmes and products", and added, "Improving the health of the population can only be fully achieved when health academic institutions are strengthened and developed".
Graduates today are required to master core clinical competencies and acquire a range of cultural competencies to ensure they are in tune with the needs of populations and communities they serve. Dr Syed Jaffar Hussain, WHO Representative for Iraq, stressed WHO's commitment to supporting the Government of Iraq, to build on what had been achieved and to improve the quality of medical education in Iraq. Dr Hussein said, "Accreditation systems can be a valuable mechanism to link educational programmes and methods to societal needs and to the principles of social accountability".
Iraq is among 16 other countries in the Region that are adopting accreditation-related initiatives, including development of accreditation plans and national mechanisms. Professor Hikmat Abdul Rasoul, Head of the Accreditation Committee of Iraq, noted, "Despite all the challenges that Iraq has faced in recent years, many successes have been achieved, such as adaptation of accreditation standards and guidelines and completion of the self-assessment process, in most medical colleges in Iraq".
The workshop will be attended by 42 key policy-makers and senior level officials representing the Ministry of Higher Education and Scientific Research, medical colleges in Iraq, Iraqi Accreditation Committee, the Accreditation Committee of the Ministry of Health for health services and the Iraqi Embassy. Senior trainers from the University of Sharjah, United Arab Emirates, Jordan University and WHO Regional and country offices will facilitate the workshop.
Priority will be given to: assessing the current status of accreditation of health professions education, especially medical education in Iraq; developing a structure and core functions for a preliminary model of accreditation in Iraq; reviewing existing terms of reference for accreditation structures; and agreeing on a national and institutional plan of action and way forward to improve the accreditation system in Iraq.
Dr Hussein praised the commitment of, and collaboration between, agencies and said that the establishment of a quality accreditation system in Iraq would not only improve the health system but save the lives of millions.
PR Workshop to improve the quality and relevance of medical education in Iraq is available in Englsih | Arabic
For more information:
Ms Ruba Hikmat, Technical Officer (HP&COM), This e-mail address is being protected from spambots. You need JavaScript enabled to view it , +962 795096066
Dr Aqila Noori, Medical Officer, Medical Officer (DHS), This e-mail address is being protected from spambots. You need JavaScript enabled to view it +962 795043930