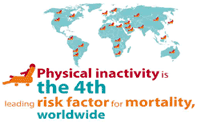 Animated infographic on physical activity6 April 2014 – The World Day for Physical Activity is observed by the World Health Organization and the International Society for Physical Activity and Health on 6 April. The theme of this year's Day is "Together for an active and happy life".
Physical inactivity is a major contributor to noncommunicable diseases, such as heart disease, diabetes and cancer. The Eastern Mediterranean Region has one of the highest rates of physically inactive people in the world. One in three men and one in two women do not follow the minimum recommended levels for physical activity. 
There is an urgent need for action. The UN Political Declaration on the Prevention and Control of Non-communicable Diseases (NCDs), the regional framework for action to implement the UN Political Declaration and WHO's Global Action Plan for the Prevention and Control of NCDs 2013–2020 with its associated monitoring framework, create opportunities for accelerating action on physical activity, which:
promote healthy growth and development in children and youth, and healthy ageing
lower the risk of several diseases
prolong life
enhance productivity
contribute to economic prosperity. 
Related links
International Society for Physical Activity and Health 
High-level regional forum on a life course approach to promoting physical activity
Watch the video Move for health 
Global recommendations on physical activity for health 
UN Political Declaration on the Prevention and Control of Non-communicable Diseases (NCDs)
WHO's Global Action Plan for the Prevention and Control of NCDs 2013–2025