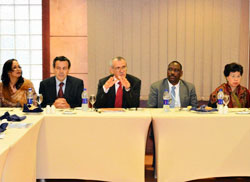 Polio comes on top of discussions during 59th session of the Regional Committee on 1 October 2012Since the initiation of the regional polio eradication programme, the response of all Member States to polio eradication has been extraordinary. Even the least developed countries have contributed to reaching this goal. The contributions of many partners, especially in the acceleration phase, have been of tremendous value.
Several initiatives have been adopted in the Region to ensure the continued commitment of national authorities at all levels to reach all children in the Region with oral polio vaccine and coverage with effective surveillance activities, as well as preparation for eventual certification of polio eradication.
The Regional Committee for the Eastern Mediterranean follows developments closely and has adopted the required resolutions to maintain the necessary efforts until polio eradication is achieved.
Although the programme in some countries is facing difficulties due to natural and manmade disasters, everyone is fully confident that polio will be eradicated.