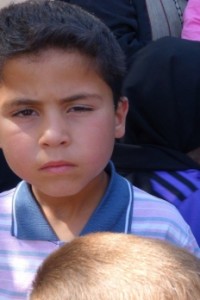 The Syria crisis was designated a Grade 3 emergency by WHO and a Level 3 emergency by the IASC in 2013, reflecting the magnitude and scale of the emergency. More than 80 000 people are estimated to have died and a further 400 000 injured as a result of the crisis as of June 2013 [1]. The crisis has affected all 14 governorates in the Syrian Arab Republic, with the United Nations estimating that 6.8 million people were in need of assistance as of August 2013, including 4.25 million internally displaced persons.
A Ministry of Health report in July 2013 illustrates the dire state of the public health service capacity in Syria. According to the report, up to 60 per cent of public hospitals have limited or no capacity. In Homs, the health infrastructure has been severely constrained as almost half of the public health centres are no longer operating, a 30 per cent jump since June 2013. In Aleppo, Deir-ez-Zor and Idleb governorates, 70 per cent of health centres are either damaged or out of service. Additionally, fuel and electricity shortages have forced many hospitals to operate at reduced capacity. There is an acute shortage of transportation for patients with urgent conditions, with 78% of ambulances damaged and 52% out of service.
Health personnel are at risk of death, injury or of being kidnapped. In areas experiencing high levels of violence, health professionals are often unable to report to work due to dangers faced as a result of the insecurity, resulting in severe shortages of health staff. In some governorates such as Homs, an estimated 70% of the remaining health care providers frequently cannot access their work place due to irregular public transportation and blocked and unsafe roads [2].
As large numbers of professionals, including heathcare professionals, flee the country with their families to escape the violence, there is an increased brain drain in the country which will contribute to the long-term impact on its development.
There is an increased risk of infectious disease outbreaks due to disruptions in vaccination programmes, overcrowding in public shelters due to high levels of internal displacement, damage to water and sanitation infrastructure, and lack of waste management. Measles vaccination coverage is estimated to have fallen from over 90% pre-war to 65%. There are reported cases of typhoid, hepatitis A, measles and cutaneous leishmaniasis. The clean water supply has reportedly decreased to one third of pre-crisis levels in some governorates.
Due to shortages in essential medicines for chronic diseases, an increasing number of patients with hypertension, diabetes, cancer, epilepsy, asthma, and renal failure lack access to treatment and life-saving essential medicines.
Most of the mental health professionals have left the country, resulting in an almost complete lack of mental health services.
Due to the insecurity and numbers of roadblocks in many areas, many pregnant women are electing to give birth through scheduled caesarian section rather than opt for natural delivery.
The escalation of clashes has resulted in substantial damage to the pharmaceutical plants located in Aleppo and Rural Damascus governorates, where the majority of country's plants are based. Many of the plants have reportedly been destroyed or are closed because the workers cannot access their work place. As a result, local production of pharmaceuticals has been significantly reduced.
The combined effects of economic sanctions, currency fluctuations, scarcity of hard currency, disrupted supply chain and fuel shortages have also had an indirect impact on availability of medicines and medical supplies.
---
[1] According to UN Office of Human Rights estimates, injuries based on 1:5 death to injury ratio.
[2] According to rapid assessments by WHO and local NGOs contracted by WHO.