WHO has an essential role to play in supporting Member States to prepare for, respond to and recover from emergencies with public health consequences. WHO's Constitution (Article 2d), outlines WHO's leading role in emergencies "to furnish appropriate technical assistance and, in emergencies, necessary aid upon the request or acceptance of Governments".
As the United Nations specialized health agency, WHO has been assigned as the lead agency of the Health Cluster, which currently comprises more than 40 international humanitarian health organizations. WHO also has obligations to the Inter-Agency Standing Committee (IASC), the International Health Regulations (2005) and other international bodies and agreements. As such, WHO's responsibilities unequivocally extend beyond technical and normative functions and include a clear operational role in both acute and protracted emergencies.
WHO's new Health Emergencies programme
As demands to meet emergency health needs increase, WHO's new Health Emergencies Programme aims to help countries prepare for, prevent, respond to and recover from emergencies quickly, in a more predictable, dependable and accountable way, whether these are caused by disease outbreaks, disasters or conflict.
Photo essay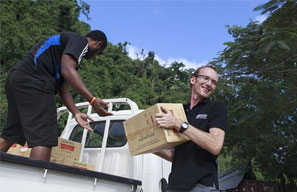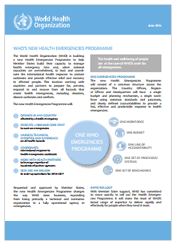 Flyer
New WHO Health Emergencies Programme to ensure more effective collaboration in health emergencies