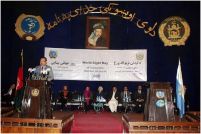 According to the data for 2010, 80% of visual impairment, including blindness, is avoidable. The two main causes of visual impairment in the world are uncorrected refractive errors (42%) and cataract (33%) although cost-effective interventions to reduce the burden of both conditions exist in all countriesKabul, 9 October – World Sight Day 2013 was celebrated in Afghanistan on 9 October under the theme of "Universal eye health" and the slogan "Get your eyes tested". Visual impairment is considered one of the most important public health problems in the country.
H.E. Dr Najia Tariq, Deputy Minister of Public Health, said that 400 000 people are blind in Afghanistan. Since 2010, the Ministry of Public Health has conducted 36 eye camps; restored the sight of 5000 patients, provided medical treatment to 57 000 patients and distributed free eye glasses to 9850 individuals who were visually impaired.
Dr Ashfaq Ahmed of WHO said, "This year is an important year, as it will mark the launch of a new WHO action plan on the prevention of avoidable blindness and visual impairment. The action plan aims to increase access to comprehensive eye care services that are integrated into health systems. 'Get your eyes tested' is a powerful and simple call to action that should resonate with a variety of audiences". 
Related link
Regional control and prevention of blindness programme
Action plan for the prevention of avoidable blindness and visual impairment for 2014–2019