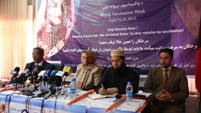 Vaccines are very safe. While better hygiene, hand washing and clean water help protect people from infectious diseases, many infections can spread regardless of how clean we are. Kabul, 21 April 2013 – Afghanistan, as part of the global community, celebrated the fourth Vaccination Week in Afghanistan on 21 April 2013, under the theme of "Stop Measles Now!" Vaccination Week is an annual global initiative celebrating and promoting immunization through advocacy, education and communication activities. Vaccination Week aims to highlight the importance of protecting individuals from vaccine-preventable diseases, and celebrates the achievements of immunization programmes in promoting healthy communities.
H.E. Dr Suraya Dalil, Minister of Public Health, said that the Ministry of Public Health of Afghanistan in 2013, in order to save time and resources, inaugurates two important initiatives together: Vaccination Week and the second spring round of nationwide polio campaign. 
Dr Ahmed F. Shadoul, WHO Representative for Afghanistan, said that, "Vaccination Week is a good opportunity to focus the attention of Afghans on the importance of vaccination. It is critically important that parents make sure that their children timely receive all doses of the recommended vaccines".