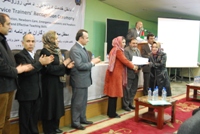 7 January 2013, Kabul – The Ministry of Public Health of Afghanistan with assistance from partners (United States Agency for International Development, UNICEF, WHO, United Nations Population Fund, Jhpiego Health Services Support Project) organized a one-day ceremony to distribute completion certificates to the in-service trainees on 7 January 2013.
Based on the national human resources for health capacity-building/in-service training strategy, the first national in-service trainers' programme started in January 2012 and completed in October 2012. The major aim of this training was to strengthen the coordination and leadership of capacity-building programmes.
This 10-month programme focused on five major areas: family planning, emergency obstetric and neonatal care (advanced and basic), newborn care, infection prevention, and effective teaching skills. The trainees were invited from five regions in Afghanistan: Kabul, Herat, Balkh, Nengerhar and Kandahar.  
In total, 120 national trainers completed this programme and received their certificates from H.E. Dr Najia Tariq, Deputy Minister of Public Health.