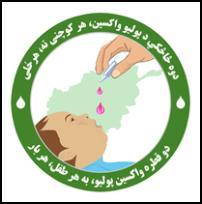 The forthcoming national immunization days against polio in Afghanistan are scheduled to take place between 10 and 12 March 2013.
During this round approximately 8.2 million children below the age of five will receive oral polio vaccine. More than 60 000 volunteers, supervisors, district coordinators, social mobilizers, community health workers, mullahs, teachers and community elders across the country will be engaged during the campaign to vaccinate all eligible against polio.
All districts/provinces in the southern Region will benefit highly from the vaccination campaign, an area from which most of the polio cases were reported in 2011 and 2012.
Special arrangements have been made for nomads, travelling children and children who may not be at home during the campaign days. Parents are expected to get all their eligible children, without exception, vaccinated in order to get maximum benefit from the campaign for their families, communities and Afghanistan as a whole.