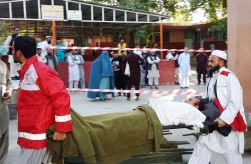 27 October 2015| Kabul, Afghanistan - The powerful 7.5 magnitude earthquake that struck Afghanistan and Pakistan emphasize that country capacity is key in averting the impact of any emergency.
The strong commitment of Afghanistan's government allowed the World Health Organization (WHO) to help strengthen the emergency preparedness system. With the ongoing emergency in the country, the system responded  – people were trained, plans were developed, simulation exercises were conducted. With the supplies support from WHO and partners, mass casualty emergency was managed locally. 
"We activated the mass casualty management plan by providing health care services, including trauma management through effective coordination with partners on the ground. We are able to manage excessive caseloads at our level with medical supplies from WHO," said Dr Shinwari, Director of Jalalabad Provincial Hospital. 
Jalalabad is one of the provinces badly hit by the earthquake, and has so far reported 119 injuries and 9 deaths. So far, figures received from health facilities in Badakshan, Takhar, Kunar, Lagman, Nouristan, Baghlan show that over 300 people were injured and 21 killed. 
WHO has prepositioned trauma kits in Jawzjan (1), Kunduz (1), Baghla (1), Ghazni (1), Jalalabad (2) and basic health kits in Takhar and Faizabad. One trauma kit covers 100 major surgeries and one basic health kit provides services to 3000 people in one month. Moreover, 12 trauma kits will be distributed to affected areas early next week.
Situation reports
Situation report on the Afghanistan earthquake, 28 October 2015 [pdf 358kb]
Situation report on the Afghanistan earthquake, 26 October 2015 [pdf 404kb]