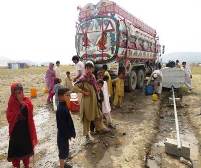 Supplying water for refugees living in Gulan Camp in Khost provinceEmergency preparedness and response planning and provincial level implementation have been accelerated by WHO and partners during the recent month. WHO supported training for health workers in Kabul, focusing on first aid skills, mass casualty management and provincial level planning, coordination and response in health emergencies.
In addition to capacity-building, WHO has continued to closely monitor the disease situation around the country, particularly in Khost and Paktika provinces where over 16 000 families remain displaced as a result of the conflict in Pakistan's North Waziristan. The first confirmed cholera cases of the year were reported in Kandahar province; however, timely investigation and response by the provincial emergency response team successfully contained the outbreak.
As water storage and sanitation facilities are currently inadequate in Paktika's refugee areas, WHO continues to work on improving health and hygiene standards in the province and monitoring the situation.