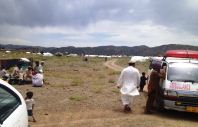 Mobile health teams treat patients at Gurbuz camp in Khost8 July 2014 – The recent security situation in north Waziristan in Pakistan has displaced thousands of people to surrounding districts of Khost and Paktika provinces in Afghanistan.
The number of people displaced in Afghanistan is estimated at 14 614 families, including approximately 138 Afghani families who also have crossed the border from north Waziristan and are living in several districts in Khost and Paktika.
WHO, UNICEF and the United Nations Population Fund (UNFPA) are supporting health care services in the provinces through the Afghanistan Red Crescent Society, HealthNet TPO (HNTPO), International Medical Corps (IMC) and Médecins Sans Frontières (MSF).
Read more about WHO's health response in Khost and Paktika [pdf 470kb]