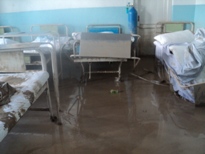 A badly-damaged hospital in Saripool following the floodsWorld Humanitarian Day is a time to recognize those who face danger and adversity in order to help others. The theme of this year's Day was "People helping people" and about making your mark by doing something good, somewhere, for someone else.
In Saripool WHO responded to the floods and assisted the provincial hospital in reconstruction and rehabilitation. The provincial hospital is now back to its previous functional capacity. The Health Cluster also responded to the needs of internally displaced persons and embarked on a measles elimination campaign, reaching 5.6 million children in July 2012.
The UN recognizes the essential role played by national and international nongovernmental organizations to provide relief and support reconstruction. Mr  Michael Keating, UN Humanitarian Coordinator for Afghanistan, expressed his disappointment over the poor response to a UN appeal earlier this year for US$ 437 million for humanitarian preparedness and response which remained under-funded.