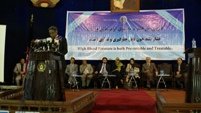 Detecting high blood pressure is the first step in preventing and controlling it7 April 2013, Kabul – World Health Day 2013 was celebrated in Afghanistan on 7 April under the theme of high blood pressure, which has been recognized as a major global public health problem. Celebration of the Day was also marked in provincial health departments of Kandahar, Bamyan, Balkh, Nengarhar and Badkhashan.
H.E. Dr Suraya Dalil, Minister of Public Health, said that the Afghan Mortality Survey 2010 indicated that about 35% of all deaths in Afghanistan were due to noncommunicable diseases. Cardiovascular diseases, including hypertension, cause 18% of all deaths among men and 14% among women.  
Dr Ahmed F. Shadoul, WHO Representative for Afghanistan, said, "Promoting a balanced diet, reducing salt intake, discouraging tobacco use, discouraging harmful use of alcohol and promoting regular physical activity and healthy life style can help to reduce the prevalence of high blood pressure".
Other speakers in the event included H.E. Amena Afzali, Minister of Labor, Social Affairs, Martyred and Disabled, Head of the Health Committee in Afghanistan Parliament and Head of the Private Hospitals Association.