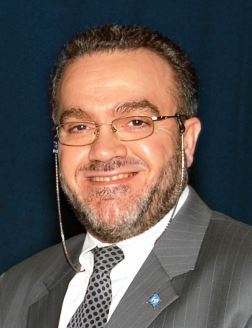 Dr A Basel Al-Yousfi, Director, Centre for Environmental Health Activities
Dr A Basel Al-Yousfi, Director, Centre for Environmental Health Activities
Vision
The Centre for Environmental Health Activities envisions being the environmental health centre of excellence for supporting countries of the Eastern Mediterranean Region in their concerted efforts to reduce the toll of morbidity and premature mortality caused by modifiable environmental risk factors.
Mission
The Centre provides technical guidance, programmatic support, advisory consultations and related services to Member States and partner agencies to heighten the leadership role of the public health sector in regulating, surveillance and management of environmental risks.
Biography
Dr Al-Yousfi holds Ph.D. and M.S. degrees in Environmental Engineering from the USA, and a B.Sc. in Civil Engineering from Syria. He is Board Certified by the American Academy of Environmental Engineers and Scientists. 
Dr Al-Yousfi is the Director of the WHO Regional Centre for Environmental Health Action, a position he assumed in August 2009. Formerly, he had served from January 2001 in the United Nations Environment Programme as a Deputy Regional Director in West Asia.
In the 10 years prior to working for the United Nations, Dr Al-Yousfi worked in the international petrochemical industry; and held an academic post at the University of Central Florida in the United States of Alerica. He also served as an adjunct professor at Marshall University in the USA and the Arabian Gulf University in Bahrain.
He was the Associate Editor of two major scientific journals, has over 60 peer-reviewed publications, and received several international awards.