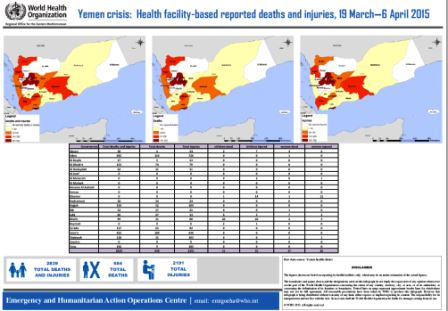 15 July 2017 – Since the beginning of the year, the capital city of Sana'a and other major cities in Yemen have witnessed an escalation of armed conflict, resulting in thousands dead and injured.
From 19 March 2015 to 15 July 2017, conflict in Yemen has claimed 8389 lives and left 47 741 others injured, according to health facility-based reports. 
It is estimated that more than 18.8 million people in Yemen are currently in need of humanitarian assistance, and 14.8 million people in need of health services according the 2017 Yemen Humanitarian Response Plan.
Insecurity in areas where conflict is ongoing is one of the key challenges impeding the provision of health care service delivery by humanitarian partners. WHO continues to monitor the provision of health with the Ministry of Public Health and Population through its operation room and provide urgent needs.
Latest health facility-based reported deaths and injuries, 19 March 2015–15 July 2017
Yemen Emergency Response Plan 2017
Infographics
Health facility-based reported deaths and injuries, 19 March 2015–31 May 2017
Health facility-based reported deaths and injuries, 19 March 2015–30 April 2017
Health facility-based reported deaths and injuries, 19 March—16 October 2015
Health facility-based reported deaths and injuries, 19 March—29 July 2015
Health facility-based reported deaths and injuries, 19 March—15 July 2015
Health facility-based reported deaths and injuries, 19 March—1 July 2015
Health facility-based reported deaths and injuries, 19 March—17 June 2015
Health facility-based reported deaths and injuries, 19 March—3 June 2015
Health facility-based reported deaths and injuries, 19 March—22 May 2015
Health facility-based reported deaths and injuries, 19 March—13 May 2015
Health facility-based reported deaths and injuries, 19 March—6 May 2015
Health facility-based reported deaths and injuries, 19 March—29 April 2015
Health facility-based reported deaths and injuries, 19 March—20 April 2015
Health facility-based reported deaths and injuries, 19 March—12 April 2015
Health facility-based reported deaths and injuries, 19 March—6 April 2015
Related link