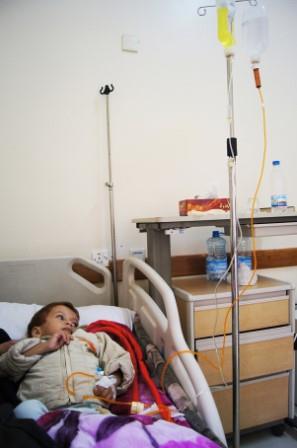 Ahmed's parents had been seeking treatment in their home governorate of Hajja but in desperation have travelled to Sana'a as his health worsened10 March 2016 – 4-year-old Fatima Al-Harazi has waited for 2 weeks for a bed so she can start her second session of chemotherapy at the national oncology centre in Sana'a.
"She cannot eat and sleep. She keeps crying bitterly from pain," said Fatima's grandmother.
Fatima is suffering from a large soft tissue tumour in her left cheek and long waits for chemotherapy mean that her health is deteriorating rapidly. 
Next to Fatima, 3-year-old Ahmed Mahyob is lying on his mother's lap, he has been diagnosed with stomach cancer. His parents had been seeking treatment in their home governorate of Hajja, but in desperation have travelled to Sana'a as his health worsened.
"This centre is our only hope. I can never afford to send my child abroad for treatment. I could barely afford to bring him here," said Ahmed's father.
A diagnosis of cancer in a child is devastating for any family. The distress for a family already living in a country suffering such a violent conflict is made worse by the financial hardship that comes with needing to care for a sick child. 
Shams Al-Qadhi, 14, from Taiz, diagnosed with lung, skin, intestinal and liver tumours presents as a tired and thin figure. Her family says that she needs testing and treatment that is now simply not available in Yemen. 
"I lost one of my daughters due to the same type of cancer. I'm doing whatever I can to save the life of Shams but my financial position doesn't help me," said Sham's father, letting out a sigh of frustration.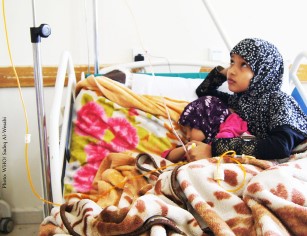 Abrar 11 cares for her younger sister living with colon cancer in the National Oncology Centre in Sanaa. Around 47 000 cancer patients are in dire need.Fatima, Ahmed and Shams are just 3 of around 47 000 cancer patients across Yemen who urgently need care at this oncology centre.
Only option for care
Since its establishment in 2005, the national oncology centre has diagnosed and treated more than 60 000 patients.  The need for the centre has become more significant than ever for Yemen due to the lack of available cancer care outside the capital.
"Many governorates suffer from absence of oncologists. Some of the patients resort to come to Sana'a to visit oncologists and pay a large sum of money," Dr Afif Al-Nabehi, Director of the national oncology centre in Sana'a told WHO.
Complete collapse
In late 2015, the national oncology centre  appealed to the humanitarian community and international bodies to "save the cancer care services in Yemen from the brink of complete collapse". They warned of the looming health disaster brought about by lack of life-saving chemotherapy drugs, laboratory reagents, and even simple pain killers.
The lack of availability of medicines and diagnostic supplies is a direct result of the defacto blockade on Yemen since March 2015, which shows few signs of lifting. Pharmaceutical merchants and the humanitarian sector have not been able to import the much needed supplies in anything touching the quantities needed. In addition, the collapsing economy has meant that budgets across the government sector have been stretched to a point that the centre has been unable to meet even basic running costs. The centre is now at a point where it closure seems like the only option.
"We're doing our best to survive and keep working within our dwindling possibilities," said Al-Nabehi. "Unless we receive functional support, we have no choice but to shut down our centre soon."
It is clear that the closure of this centre would not only mean that Fatima, Ahmed and Shams will lose their lifeline but thousands of others across Yemen will suffer as further casualties of the war in Yemen.
Since the beginning of the crisis, WHO has reached more than 7 million people in 23 governorates through the provision of medicines, medical supplies, mobile medical teams and mobile clinics. However, the gaps remain huge as the health system continues to collapse, leaving 14.1 million people in urgent need of health care. In 2016, WHO and health partners require US$ 182.3 to meet increasing health needs in Yemen. In 2015, WHO received only US$ 42.6 out of a total requested US$ 84 million. 
Related link