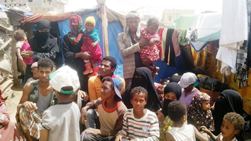 Internally displaced people in Raida district of Amran3 June 2015, Amman, Jordan – Mass population movement and a failing health system have exposed internally displaced people in Yemen to increased, life-threatening health risks. 
More than one million internally displaced people have fled the violence to neighbouring governorates. Many of them are housed in public spaces where living conditions are overcrowded and often unsanitary. Within schools, for example, some of which host upwards of hundreds of displaced Yemenis, people share a single washroom per gender. 
In Aden governorate, doctors are reporting increasing cases of dengue fever and malaria, as well as growing cases of acute watery diarroea due to poor sanitation and limited access to safe water. "As the number of internally displaced persons increase, diseases and infections are spreading rapidly," said Dr Moheeb Obad, head of the Field Medical Foundation (FMF), a local nongovernmental organization working with WHO and UNICEF to provide primary health care and referral services to internally displaced persons in Aden, Lahj, Al-Dhalea, Shabwa and Abyan governorates.
Internally displaced children in one of Al-Buraikas schools in AdenWith disruptions in vaccination activities as a result of the insecurity, cases of measles have also increased, especially among internally displaced persons living in overcrowded shelters, where risk of transmission between under-vaccinated children is high. Polio is also a serious risk, although until now, Yemen remains polio-free. 
"The health situation in shelters hosting internally displaced people is worrying," said Dr Ahmed Shadoul, WHO Representative for Yemen. "This is exacerbated by a disrupted disease surveillance system due to the insecurity, as well as inadequate access to basic health care services due to shortages in qualified health staff and limited functionality of health facilities."
In Aden, Abyan, Hodeida, Amran and Sana'a governorates, conditions in shelters have exacerbated the health situation of internally displaced people, especially those suffering from chronic disease such as diabetes, asthma, kidney diseases and hypertension who have limited access to treatment due to reduced health care services and critical shortages in essential medicines.
Thousands of internally displaced people in Hajja governorate are overloading the local health system. Dr Khaled Al-Nadheri, Deputy Director of the Health Office in Hajja governorate, told WHO that Al-Jamhouri Hospital, the only public hospital in the governorate, is barely functional. "Many of the internally displaced people are women and children, including a large number of pregnant and lactating women and malnourished children in need of urgent support," said Dr Al-Nadheri. Health partners on the ground in Taiz governorate are reporting that health facilities are overburdened by large numbers of internally displaced people and Khalefa hospital reporting zero stocks of medicines in its supply store.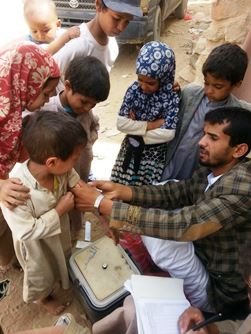 Boy receives medical care"WHO is working with partners to support the health needs of internally displaced people throughout the country with mobile health teams, safe water supplies, sanitation services, and medicines and medical supplies. But much more needs to be done, and this can only happen if health facilities remain fully functional, if health staff and disease surveillance officers are able to report to work safely, and if medicines and medical supplies are able to reach areas where they are needed most," said Dr Shadoul.
Related link