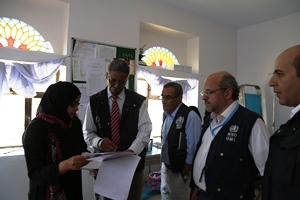 20 August 2015 | Sana'a, Yemen – The health system in Yemen continues to shut down, leaving civilians without access to critical, life-saving health care. Almost 23% of all health facilities in Yemen are currently non-functional or partially functional as a direct result of ongoing violence, and additional facilities continue to close down week by week.
Most recently, the renal dialysis centre in Haradh governorate was forced to close due to increased violence and insecurity in the area preventing staff and patients from accessing the facility. This centre was treating between 42 and 57 chronic renal failure cases per month. Prior to its closure, WHO was supporting the centre with fuel and safe water on a daily basis. The centre's closure could have catastrophic consequences for chronic renal failure patients who are dependant on its live-saving support. Consequently, renal dialysis centres in Hodiedah, Hajjah and Mahweet are now overcrowded with patients.
The departure of health professionals fleeing violence has led to shortages of qualified health workers, creating a gap in the provision of primary health care, trauma and surgical care, as well as obstetric care. Further exacerbating the situation are shortages of power and fuel which have resulted in the closure of intensive care units and operation rooms in almost all hospitals across the country. 
A total of 15.2 million people, including 1.4 million internally displaced persons (IDPs), are in need of health services life-saving assistance in Yemen, especially in Aden, Abian, Taiz and Sa'ada governorates. Mass population movement has overstretched functioning health facilities in areas hosting IDPs, increasing the risk of vaccine-preventable and waterborne diseases. More than 2.6 million children under 15 years of age are at risk of measles and another 2.5 million under 5 at risk of diarrhoeal disease and acute respiratory infections. 
Amidst funding shortages and inaccessibility challenges, WHO has supported the Ministry of Health and partners with over 181 tonnes of medicines and medical supplies for more than 3 million people, including for trauma care, noncommunicable diseases, and laboratory and blood banks. 
WHO has also trained and deployed over 50 mobile medical teams and 20 fixed medical teams in 11 governorates to provide an integrated primary health care package. 18 hospitals in 7 of the most affected governorates were also supported with physicians, surgeons, gynaecologists, psychiatrics and nutritionist. WHO has also provided 745 190 litres of fuel to support the operation of 72 health facilities, including 51 hospitals, 7 major centres, 6 vaccine depots and 8 renal dialysis centres. WHO and health partners have supported the treatment of an estimated 22 951 trauma and surgical cases in the country, although this figure could be higher in areas that have not been able to access due to the security situation.
To reduce the risk of water-borne diseases, WHO has provided safe drinking water, hygiene supplies and cleaning materials to IDPs in all affected governorates. Through the surveillance system, 2082 disease alerts were generated and investigated since the start of the year and support was provided to the Ministry of Public Health to develop and roll out dengue fever and cholera control plans.  WHO has also vaccinated more than 3.9 million children under 5 years against polio in national wide campaign launched on 15 August 2015; in addition 867 931 children aged 6 month to 15 years against measles in high-risk areas. The number of children vaccinated for both polio and measles will increase as the vaccination campaign is still ongoing.
"Despite these achievements, we are only touching the tip of the iceberg in terms of our response," said Dr Ahmed Shadoul, WHO Representative for Yemen. "Millions of people are in urgent need of health care services and thousands more could lose their lives – not as a result of the violence, but as a result of limited funding impeding our ability to reach affected populations."
While health needs continue to grow, funding for an effective health response remains limited. Out of US$ 151 million required to meet the health needs of internally displaced persons in Yemen until the end of 2015, only 23 million has been received, leaving a funding gap of 85%.
If WHO does not receive much needed funds in the next coming months, a number of critical health care services will be forced to shut down. These include trauma and surgical care for an estimated 102 502 people; integrated primary health care for 4.1 million; maternal and child health services for 126,060 women; disease surveillance and outbreak response for an estimated 6 million people; medicines and medical supplies for an estimated 10.2 million people; environmental health for 10.2 million people; basic repair or upgrading of health facilities and provision of equipment and supplies for 10.2 million people.
Related links
Read situation reports on the health situation in Yemen
For more information please contact:
Ms Pauline Ajello
Communication Officer
WHO – Yemen
email: This e-mail address is being protected from spambots. You need JavaScript enabled to view it
mobile: +962797140902
Mr Sadeq Al-Wesabi
Communication Officer
WHO - Yemen
email: This e-mail address is being protected from spambots. You need JavaScript enabled to view it
This e-mail address is being protected from spambots. You need JavaScript enabled to view it
mobile: +967 733096603