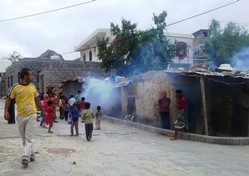 WHO continues to support the outdoor fogging spraying campaign as a control measure13 April 2016 – WHO's Regional Director for the Eastern Mediterranean Dr Ala Alwan and Yemen's Minister of Public Health and Population H.E. Dr Nasir Baoum met in the WHO Regional Office in Cairo recently to discuss the health situation in Yemen, focusing on the spread of malaria in the country and WHO's scaled-up response. 
Malaria is endemic in Yemen, with more than 78 336 suspected cases and 31 791 laboratory-confirmed cases reported in 2015. However, these figures could be much higher as they only represent cases detected by sentinel sites included in the disease early warning system. More than 78% of Yemen's population lives in at-risk areas, with 25% living in high-risk areas. Limited access to clean water and sanitation has significantly increased the risk of infectious diseases, such as dengue fever and malaria further spreading. 
With a number of challenges preventing an effective and timely response, the risk of an epidemic is high: fuel shortages and the consequent increasing cost of fuel have created difficulties in transporting medicines and medical supplies. Shortages of health workers are also affecting the functionality of health facilities and preventing the delivery of health services.
"I am extremely concerned about the increasing number of malaria cases in Yemen, especially among internally displaced persons who need increased protection," said Dr Alwan. "The violence has led to a number of challenges in the delivery of vector control and surveillance services. Our main priority now is to make sure that we can prevent an epidemic before it is too late."
WHO continues to support insecticide spraying interventions in houses as a control measure for both dengue and malaria in Al-Hudaydah, Abyan, Aden, Taiz, Hadramout, Shabwah and Al-Mahra. Last month, a boat carrying 103 tonnes of anti-malarial medicines, trauma kits, interagency emergency health kits, and diarrhoeal diseases kits arrived in Aden port. These supplies were distributed by WHO and the Ministry of Health and Population to health facilities in 11 governorates, including Abyan, Aden, Shabwa, Hadramout, Marib and Al Jouf governorates, as well as Taiz City. An additional 120 tonnes is scheduled to arrive in the country in the coming weeks.
Increasing immunization coverage, especially in hard-to-reach areas, was key topic also discussed during the meeting in Cairo. Although the overall vaccination coverage rate in the country has not significantly decreased from pre-crisis levels, coverage rates in some affected districts are less than 50%. One of the main challenges facing health staff is a lack of fuel to maintain the cold chain for vaccines. To help ensure a functional cold chain, WHO has provided 162 refrigerators to the Expanded Programme on Immunization office in Sana'a. WHO has also provided substantial funding to cover the cost of fuel for the cold chain to ensure the potency of vaccines. 
"As one of the few active agencies in Yemen, WHO is working closely with the Ministry of Public Health and Population to deliver medicines and supplies to health facilities that are facing serious shortages. Through WHO, we have been able to reduce suffering, particularly through the continuity of primary health care services," said H.E. Dr Baoum.
Related link
World Malaria Day: End malaria for good, 25 April 2016
For more information:
In Yemen 
Sadeq Hasan
WHO Yemen
+967733096603
This e-mail address is being protected from spambots. You need JavaScript enabled to view it ;
In Cairo: 
Rana Sidani
WHO Egypt
+201099756506
This e-mail address is being protected from spambots. You need JavaScript enabled to view it