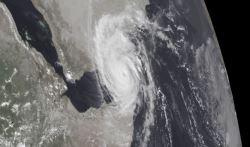 Sana'a, 6 November 2015 — The World Health Organization (WHO) and the Ministry of Public Health and Population in Yemen are intensifying efforts to respond to the serious consequences of cyclone Chapala which has hit parts of the country.
According to the United Nations Office for the Coordination of Humanitarian Affairs, the effects of this cyclone will be felt over large parts of Yemen. The effects are likely to be more severe in Shabwah and Hadhramaut, which have a combined population of about 1.8 million people. This includes more than 100 000 internally displaced persons and 27 000 refugees and migrants.
In preparation for the health impact of the cyclone, WHO has delivered trauma kits for 1000 patients in the Mukalla district of Hadramout governorate. The Organization has also provided 20 000 litres of diesel to 8 hospitals to ensure their continued functionality, as well as 2500 litres of petrol in order for 16 ambulances to continue to provide emergency services.
A Strategic Health Operations Centre has been established in the WHO office in Sana'a while the Ministry of Public Health and Population continues to function from its WHO-supported operations room. In addition, WHO's sub-office in Aden is on alert and working with partner agencies in the south to finalize their plans.
"We are in a regular contact with the health authorities in Mukalla and rapid response teams from the Ministry of Public Health and Population to provide health information and carry out constant surveillance and assessment," said Dr Ahmed Shadoul, WHO Representative for Yemen. "WHO, health partners and health authorities are on high alert to ensure preparedness measures are in place and provide a timely response."
Related links
Read the latest situation report
United Nations Office for the Coordination of Humanitarian Affairs