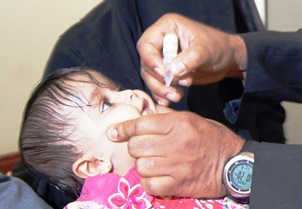 Photo credit: WHO/S. Al-WesabiSana'a, 4 August 2015— A total of 140 000 children under one year of age have been vaccinated in the first phase of an immunization outreach activity for 10 vaccine preventable diseases, including measles, polio, meningitis and diarrhoea. Supported by WHO, UNICEF and the Vaccine Alliance (GAVI), the activity was conducted from 25 July to 6 August.
The activities were conducted by mobile vaccination teams in remote and rural areas. Vaccination sessions were held by health workers prior to the administration of the doses. An estimated 1200 vaccination mobile teams administered over 105 000 doses of polio, penta and pneumococcal vaccines, in addition to 30 000 doses of rota and 25 000 doses of measles in over 10 000 vaccination sessions.
"Boosting immunization services is critical to the control of preventable infectious diseases which until recently started showing increasing trends," said Dr Ahmed Shadoul, WHO Representative for Yemen. "Through the teams supported by WHO, vaccinators have managed to reach remote, and sometimes unsafe areas to vaccinate internally displaced children."
WHO has also supported the Ministry of Public Health and Population to vaccinate internally displaced people (IDPs) and host communities in Dhamar, Al Amana, Al Hodaida, Sanaa, Hajja, Shabwa. Amran and Ibb governorates. An estimated 21 563 children under 15 years received the measles and rubella vaccines reaching 90% of the targeted children and 22 139 under 15 years were vaccinated against polio with coverage of 92%.
"WHO plays a vital role in providing immediate support to immunization services during the ongoing crisis. The influx of displaced persons puts children under 15 years at risk of vaccine preventable diseases, particularly polio and measles," said Haddy Al-Amdi, the supervisor of the Expanded Programme on Immunization in Amran governorate, which hosts the largest number of IDPs.
WHO will continue to support immunization in remote and inaccessible areas and support provision of fuel for generators in all governorates in order to maintain vaccine cold chain.
Despite political unrest in Yemen in the past 2 years, a high coverage of 88% for the penta 3/oral polio vaccine 3 has been achieved through fixed and outreach sites.
Related links
Read situation reports on the health situation in Yemen
For more information, please contact:
Ms Pauline Ajello
Communication Officer
WHO – Yemen
email: This e-mail address is being protected from spambots. You need JavaScript enabled to view it
mobile: +962797140902
Mr Sadeq Al-Wesabi
Communication Officer
WHO - Yemen
email: This e-mail address is being protected from spambots. You need JavaScript enabled to view it
This e-mail address is being protected from spambots. You need JavaScript enabled to view it
mobile: +967 733096603