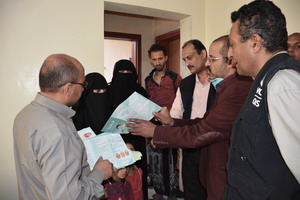 The initial response process includes case management and contact tracing and prevention activities, including water, sanitation and hygiene, and health and hygiene promotion. Photo: Sadeq Al-Wesabi13 June 2018 – Infectious disease outbreaks are a serious public health concern, posing a direct threat to families, especially children, in every home in Yemen. Emergency preparedness and response structures could mean the difference between life and death for many people. Through the quick mobilization of readily available teams, the number of people affected could be reduced and the spread of deadly diseases controlled.
In the midst of war and faced with a collapsing health system, WHO, national health authorities, along with local and international partners, have scaled-up their operations, through the establishment of rapid response teams (RRTs) in the fight against disease outbreaks. These teams are critical; investigating outbreaks and ensuring that prevention and control measures are rapidly executed to contain any infectious disease threat.
These multi-disciplinary teams comprise health care professionals each with a specific skillset, designed to rapidly detect and contain a potential outbreak before it has a chance to spiral out of control.
War and outbreaks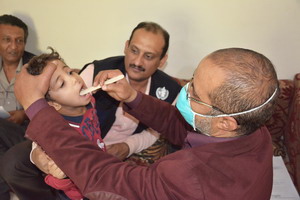 A rapid response team from Sana'a collects samples from symptomatic contacts after receiving an alert about a probable case of diphtheria. Photo: Sadeq Al-WesabiThe ongoing conflict has made the health situation worse, contributing to a rise in disease outbreaks across Yemen. In the hopes of arresting this, WHO supported the establishment of RRTs at the governorate level in all 22 governorates in 2016. By 2017, the number of RRTs increased to 331 available teams consisting of 1695 health workers in 331 out of the 333 districts in-country.
"These are difficult times and these dedicated health aid workers are making sure that vulnerable communities are provided with the assistance and protection they need against these highly pathogenic diseases," says Dr Nevio Zagaria, Representative of WHO in Yemen.
The initial response process includes case management and contact tracing, prevention activities, including water, sanitation and hygiene, and health/hygiene promotion, collecting samples from symptomatic contacts and also testing samples collected from water sources to confirm the possibility of water contamination and identify the potential source of infection, and to confirm diagnosis, community engagement, social mobilization, and assessment.
In the event of an outbreak, the comprehensive approach ensures RRTs are able to mobilize resources and personnel to the affected area to prevent the further spread of disease.
The fight against cholera
As Yemen faces what is now known as the world's largest cholera outbreak, these dedicated RRTs ensure that laser-focus on early detection, or the early identification of suspected cholera cases, and the investigation of the source are top priorities. The national epidemiological surveillance programme and WHO utilized the already established electronic integrated disease early warning system (eIDEWS) to support the early detection of suspected cholera. eIDEWS was initiated in 2013 as a pilot in 4 governorates (Aden, lahj, Abyan and Taiz) with a total 98 selected sites.
The eIDEWS is a surveillance and data collection program designed to rapidly detect potential outbreaks and public health threats at the earliest possible stages. The program then generates an alert in order to facilitate timely interventions and prompt response to help prevent or reduce the spread of the disease. These findings influence the response plan at district level, using essential findings from rapid assessments to formulate an informed and effective outbreak response.
The fight against cholera also resulted in the request of national health authorities for a way in which they could increase the mobility of RRTs to reach otherwise inaccessible areas in order to investigate and respond to reported outbreaks. This resulted in the procurement and planned distribution of 1000 motorbikes in Yemen.
"With disease outbreaks threatening the lives of millions of Yemeni people, an effective response relies heavily on the ability of RRTs to rapidly detect and investigate potential outbreaks. Early detection leads to timely interventions that save lives," said Dr Zagaria.