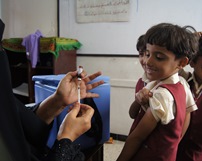 Measles/rubella is used for the first time in Yemen during this campaign and there is a plan to introduce it into the routine immunization programme nationwide in 201523 November 2014 – A national measles/rubella vaccination campaign was conducted in Yemen from 9 to 20 November 2014, in which around 11 161 314 children from 9 months to 15 years were vaccinated with measles/rubella vaccine. The coverage rate was 98%. In spite of political unrest and insecurity in areas, vaccination teams were able to gain access to all areas through discussions with local communities and community leaders.
Detailed micro-planning was done at the health facility level, including timetables and maps for every mobile team. Operational rooms at central and governorate level were established before and during the campaign and were functional 24 hours a day.
Daily reports were sent from all teams in the field, including information from vaccinators on acute flaccid paralysis (AFP), measles/rubella, adverse events following immmunization (AEFI) and follow-up on refusals and vaccination in the high-risk groups. Daily feedback from the central operational room with detailed analysis of the coverage at district level, vaccine wastage, and the checklist forms of the supervisors was sent to the governorate operational room for immediate corrective action.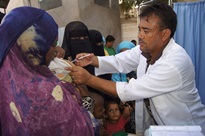 High-risk groups such as refugees, the internally displaced and marginalized communities were targeted during the campaignTeams looked for suspected cases of measles, rubella, AFP and AEFI and reported daily, including the zero reporting. Around 68 suspected cases of measles/rubella were reported and investigated. Monitoring of adverse events during the campaign was established through the teams and the other health facilities. No severe cases were reported and only 47 cases of moderate adverse events were reported ranging from mild swelling to mild allergy.
"The campaign witnessed a high turnout by many parents bringing their children to be vaccinated, including high-risk groups such as refugees, internally displaced persons (IDPs) and marginalized communities," said Dr Ahmed Shadoul, WHO Representative for Yemen.
"Special plans were prepared for high-risk groups at the health facility level, including refugees, IDPs, the marginalized and refusals," said Dr Osama Mere, WHO Deputy Representative in Yemen. "More than 103 000 children were vaccinated from these groups. All age groups of refugees in the camps were included and more than 12 000 aged above 15 years were vaccinated." He added: "Measles/rubella vaccine is being provided for the first time in Yemen during this campaign and there is a plan to introduce it into the routine expanded programme on immunization nationwide in the beginning of 2015, when it will replace the two doses of measles vaccine at 9 months and 18 months."
Effective partnerships
A wide range of partnerships was crucial to the successful implementation of the campaign. The GAVI Alliance supported 80% of the operational costs of the campaign and the entire cost of the vaccine. In addition, GAVI supported the operational cost for the introduction of the vaccine into the routine immunization programme, especially in training vaccinators on the new measles/rubella vaccine. The Government of Yemen (Ministries of Health, Information, Education, Endowments and Guidance, and local councils), WHO, UNICEF, United States Agency for International Development (USAID), the Centers for Disease Control and Prevention (CDC), the Maternal and Child Health Integrated Program (MCHIP), the Adventist Development and Relief Agency, the United Nations Office of the High Commissioner for Refugees (UNHCR) and the International Organization for Migration (IOM) all had an essential role in supporting the campaign with funding and providing extensive technical support through micro-planning, implementation and supervision and monitoring. Ten international consultants from polio and measles programmes and other partners contributed to the campaign.
"In spite of the political unrest, there was strong government commitment. The Health System Strengthening Coordination Committee led by the Ministry of Health, National Immunization Technical Advisory Group and the Expanded Programme on Immunization Task Force played a crucial role in advocating for the campaign," Dr Mere explained.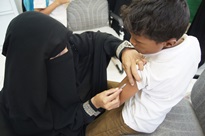 Around 11 161 314 children from 9 months to 15 years were vaccinated for measles/rubella vaccine with a coverage rate of 98% The vaccinations were administered through 3032 fixed sites and 12 068 mobile teams who vaccinated students in schools. Around 24 064 vaccinators and 3963 supervisors at different levels were involved in this campaign.
Measles elimination started in Yemen in 2006 when a national catch-up campaign was conducted that resulted in a 12% reduction in deaths, from 5000 deaths annually to just a few deaths in the following years. A large outbreak of measles occurred in 2011 (incidence rate: 107 per million) and in 2012 (incidence rate: 86 per million). 
A high incidence rate of rubella of 41 and 52 cases per million was registered in 2013 and 2014, respectively. A vaccine for congenital rubella syndrome will be offered from the beginning of 2015.