Targeting more than 11 million children
Sana'a, 9 November 2014 — Dr Riyadh Yassin, Minister of Public Health and Population, launched a national campaign against measles/rubella on 9 November 2014 with the participation of representatives from WHO, UNICEF and the World Bank in Yemen.
The ten-day campaign, supported by GAVI, is targeting 11 637 887 children aged from 9 months to 15 years with measles and rubella vaccine. In addition, polio vaccine is administered to 4 884 630 children under 5.
The campaign also targets students in schools and high risk groups such as refugees, internally displaced persons and other marginalized communities.
Dr Riyadh Yassin stressed the importance of the campaign, saying that "Immunization against these and other diseases is among the top priorities of the Ministry,"
"I call for all parents to participate effectively to ensure the vaccination of their children to save their lives," he said.
An unprecedented health event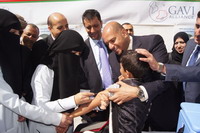 Amin Joma'an,Secretary-General of Sana'a local council, launches the campaign in Sana'a"This measles/rubella campaign is an unprecedented health event since the rubella vaccine is being administered nationwide for the first time in Yemen. This remarkable campaign will contribute greatly to eliminating measles and reducing rubella cases and congenital rubella syndrome," said Dr Osama Mere, Deputy Representative of WHO in Yemen.
"Measles used to be the fourth leading cause of death among children under 5 before 2006," added Mere. "Following several national campaigns against measles, the number of deaths has sharply decreased."
The incidence of measles was 22 per one million population in 2013 and rubella incidence was around 50 per one million.
Amin Joma'an, Secretary-General of the local council in Sana'a, urged parents, local councils, social leaders and the community to mobilize support for the campaign.
"This campaign aims to keep our children safe from these deadly diseases," he declared.