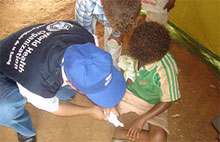 26 March, Sana'a, Yemen – WHO, together with the Ministry of Public Health and Population and health partners, is responding to increased health needs in Yemen as a result of the recent escalation in violence in Sana'a and other parts of the country.
Widespread armed clashes between the army and opposition forces occurred on 26 March and are ongoing on in Al-Dha'ale and Lahj Governorates. Clashes near and inside Aden city were also reported, in addition to airstrikes on the presidential palace in Aden.
On 20 March, explosions were reported in two mosques in Sana'a during the mass gathering for Friday prayers, resulting in 143 people dead and 366 injured. Armed clashes between government and opposition forces in Aden on 19 March resulted in 20 people dead and 82 injured, and clashes were also reported in Marib governorate in the east. In the south, Lahj governorate witnessed clashes between the southern public armed committees and the Special Forces, with 7 people dead and 16 injured.
The Ministry of Public Health and Population immediately deployed ambulances to transfer the injured to nearby hospitals and provided blood bags from the blood bank in Aden.
"In response to increased needs for trauma and surgical health care, WHO, the Ministry and partners monitored the level of preparedness of hospitals receiving injured patients and provided medicines, medical supplies and blood bags and reagents," said Dr Ahmed Shadoul, WHO Representative in Yemen.
Hospitals in Aden and nearby governorates had already received additional supplies of trauma management medicines from WHO in February 2015 as part of the Organization's contingency plans. Additional trauma kits and interagency health kits containing trauma and surgical supplies, as well as basic medicines, were pre-positioned by WHO and the Ministry of Public Health and Population in warehouses in Hodeida, Sana'a and Aden for distribution to hospitals.
Both the International Committee of the Red Cross (ICRC) and Medecins Sans Frontiers (MSF) provided additional medicines and medical supplies, including war-wounded kits, anaesthesia drugs, and injectable antibiotics and analgesics. Many of the injured cases in Aden received treatment in the MSF Surgical Centre through referrals from Aljumhooria Hospital. As a preparedness measure, ambulance health workers in Aden were trained by the ICRC in managing injured cases being transported to nearby hospitals.
"WHO, together with the Ministry of Public Health and Population and health partners, will continue to monitor the situation through the Ministry's health operations room and provide the necessary support" said Dr Shadoul.
Since the beginning of the year, the capital city of Sana'a and other major cities in Yemen have witnessed an escalation of armed conflict, resulting in hundreds dead and injured. More than 8.4 million people are estimated to be in need of health care services across the country, including almost 334 000 internally displaced people who are mainly located in the north.
According to health cluster plan for 2015, total funding required to cover health needs in Yemen was projected around US$ 61 million, of which WHO requested US$ 25 million. WHO has so far received funding or pledges for almost US$ 6.5 million for 2015.