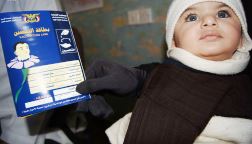 Sana'a, 3 November 2015— Inactivated polio vaccine (IPV) was formally introduced into the routine immunization programme today in Sana'a, Yemen for all children under the age of one. The introduction, which is supported by GAVI - the Vaccine Alliance, WHO and UNICEF, came as a significant step towards eradicating polio and enhancing Yemen's immunization programme. Currently, there are no cases of polio in Yemen.
"This is a significant step in eradicating polio as part of the Global Polio Endgame strategic Plan," says Dr Ahmed Shadoul, WHO Representative for Yemen. "It's a huge achievement to introduce this vaccine, given the major security, political and economic challenges facing Yemen today."
The planned introduction of IPV for polio eradication represents the fastest global introduction of any new vaccine in low- and middle-income countries in recent history. Yemen is one of 126 countries that are introducing the vaccine in 2014–2015.
"Yemen is committed to eradicating polio so the national immunization programme has made every effort to introduce the vaccine," said Dr Ghada Al-Haboob, Director of the Expanded Programme on Immunization. "We are doing our best to ensure that every child receives this vaccine in order to maintain the advances made in the field of immunization."
The new vaccine does not replace oral polio vaccine (OPV) doses. The IPV and OPV doses will together further boost the immunity of children against polio. The formal introduction of IPV was preceded by intensive training for health workers and vaccinators in all governorates in Yemen.
Photo gallery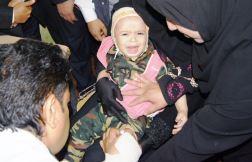 Ibrahim Mohamed is the first child to be vaccinated with IPV in Sana'a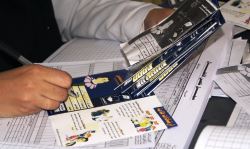 Inactivated polio vaccine will be given within the routine immunization programme for all children under the age of one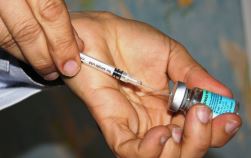 The new vaccine does not replace oral polio vaccine doses. The IPV and OPV doses together will further boost the immunity of children against polio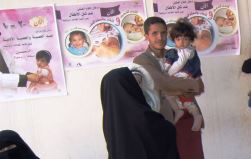 An intensive health education campaign about the effectiveness of IPV preceded its introduction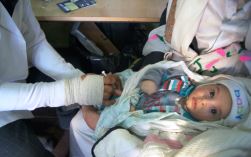 The formal introduction of IPV was preceded by intensive training for health workers and vaccinators in all governorates about how to deal with the new vaccine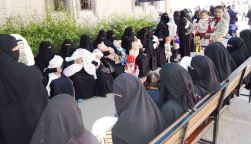 Dozens of women with their babies visit one of health facilities to get their children vaccinated with IPV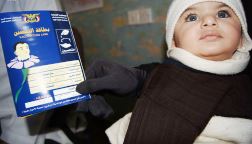 7-month-old Obad Moshtaq is waiting with his mother to receive IPV vaccination