WHO has trained more than 2500 focal point staff in health facilities on operating the electronic systemSana'a, Yemen, 7 September 2016 — Since the beginning of the conflict in March 2015, limited access to health care services and a breakdown in safe water supply and sanitation services has triggered the spread of endemic diseases such as malaria and dengue fever, as well as acute diarrhoeal diseases.
The escalation of the conflict in Yemen has affected the functionality of the electronic disease early warning system (eDEWS), which serves as a significant tool to detect, report and respond rapidly to alerts that could indicate outbreaks and epidemic-prone diseases.
In response to the need for electronic expansion of the existing public health surveillance system and improving the speed and efficiency of data collection, analysis and public health response, WHO, in collaboration with the Ministry of Public Health and Population, has scaled the system up in all Yemen's governorates, with sentinel sites expanded from 408 health facilities in 16 governorates to 1186 facilities in 23 governorates.
"Expansion of the electronic disease early warning system is much-needed and will ensure effective monitoring and early detection of epidemiological patterns of disease and other public health concerns in line with the requirements of International Health Regulations," said Dr Ahmed Shadoul, WHO Representative for Yemen.
"Despite financial constraints and security threats, WHO has continued to support epidemiological surveillance activities to ensure rapid detection and response to outbreaks," added Dr Shadoul.

Over the last few months, WHO introduced the eDEWS into Socotra, Al-Dhalea, Rayma, Al-Mahweet, Al-Jawf, Mareb and Al-Baidaha governorates. In addition, the system has expanded to include new health facilities in all districts of previously included governorates, including Aden, Abyan, Al-Hudaydah, Hajjah, Hadramout and Shabwa.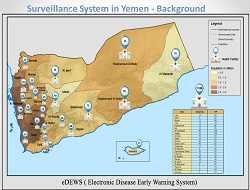 Map showing the sentinal sites at governorate levelPrior to expanding the system, WHO trained more than 2500 focal point staff in health facilities on operating the electronic system. WHO plans to expand eDEWS in 10 more governorates to reach 1852 fully functional health facilities and shift from routine paper-based to electronic surveillance by December 2016.