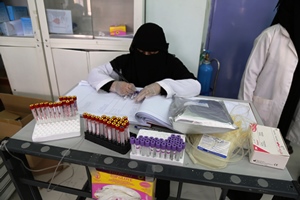 Health worker records blood samples collected from the national blood transfusion and research centre in Sana'aSana'a, 03 September 2015 – Yemen's biggest blood transfusion centre faces the threat of closure due to shortage of blood bags, reagents and fuel to run the generators that support its work, endangering millions of lives. WHO is calling for additional support to prevent the centre's shut down.
"Thousands of people could die if the closure of the blood transfusion unit goes ahead as there will not be any safe blood available," says Dr Saeed M Alshaibani, General Director of Yemen's national blood transfusion and research centre. 
"If the blood transfusion centre does not urgently receive blood bags, reagents and fuel to support the team carry on with the services, we shall stop operations in the next few days," added Dr Saeed.
Yemen has 6 blood transfusion centres in Aden, Taiz, Hodidah, Hadramout, Abyan and the capital, Sana'a. However, 2 of the 6 centres – Aden and Taiz – have shut down their operations following the escalation of the conflict in the 2 governorates, with the one in Taiz damaged as a direct result of the ongoing conflict.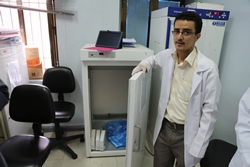 A laboratory technician shows off an empty fridge where reagents are stored at the national blood transfusion and research centre in Sana'a Aden and Taiz governorates have also recorded the highest number of casualties at 9794 and 5985, respectively, from 19 March to 20 August 2015, making the demand for safe blood huge. 
Data from the centre reveals that each month an average of 2500 women, children and men, including patients with thalassemia, sickle cell disease, trauma cases in Sana'a and neighbouring governorates depend on blood components collected at the centre in Sana'a. 
During the past 6 months of the crisis, the need for blood transfusion services has more than doubled. And although there are many people willing to donate blood, the centre is unable to cope due to shortage in blood bags and reagents to collect, store and screen blood and other components. 
"WHO has provided 23 000 blood bags and reagents to the Ministry of Public Health and Population and to the centre in Sana'a to fill the critical gap and need for safe blood supply," says Dr Ahmed Shadoul, WHO Representative in Yemen. "This is just the tip of the iceberg. More support is still required to ensure the blood transfusion centre continues operating."
Additional support and funding of US$ 108 million for the WHO-coordinated network of Health Cluster operational partners is needed to respond to the health needs of 10.3 million people in Yemen. This includes supporting the blood transfusion centre to ensure continued supply of an estimated 2500 units of safe blood to over 8 hospitals within Sana'a and neighbouring governorates.
Related link
Read the latest situation reports
For more information, please contact: 
Ms Pauline Ajello
Communications Officer
+962797140902
This e-mail address is being protected from spambots. You need JavaScript enabled to view it
Mr Sadeq Al-Wesabi
Communications Officer
+967 733096603
This e-mail address is being protected from spambots. You need JavaScript enabled to view it