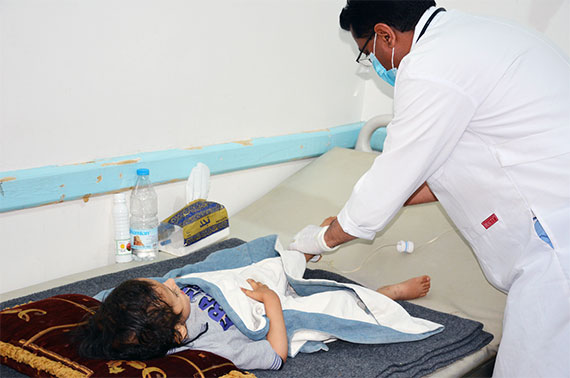 2-and-a-half year-old Mossaad is fighting for his life. He is being treated for cholera. He has been hospitalized for 11 days so far, and doctors are worried about his persistent dehydration. Photo: Hanan Ishaq
4 June 2018 – In the Al Sabeen Maternal and Child Hospital in Sana'a, 2-and-a-half year-old Mossaad is fighting for his life. He is being treated for cholera. He has been hospitalized for 11 days so far, and doctors are worried about his persistent dehydration. "I was terrified when I rushed him to the hospital, he was losing consciousness," said Mossaad's mother. Watching her child lying helpless and in pain in a hospital bed, Mossaad's mother is agonized by the prospect of losing him. He is the youngest of her 5 children.
In the room next door lies Baraa, just 4 months old. Her emaciated body battles severe acute malnutrition compounded with cholera.
Even getting to the hospital was a struggle, as Baraa's family barely has enough money to pay for transportation and medication. "The conflict here caused my husband to lose his job. He can no longer provide for us. We have to borrow money," said Baraa's mother.
Amidst the chaos and devastation of the prolonged conflict in Yemen, tens of thousands of families here are facing similar circumstances. Poor communities are hit the hardest. As people here struggle to survive and get enough to eat, they also face the double burden of lacking clean water and sanitation. This leaves them susceptible to cholera, a deadly disease that is all the more tragic because it is preventable.
The cholera epidemic began in Yemen in early October 2016, the almost inevitable result of ongoing armed conflict, devastated infrastructure, and a health system on the brink of collapse. Today, it is the largest cholera outbreak ever recorded. By the end of January 2018, the number of suspected cases had risen to over one million.
Controlling the outbreak
Measures are now being taken to mitigate further spread of the disease. As a part of a broader integrated response plan supported by the World Health Organization (WHO), UNICEF and the World Bank partnership, an oral cholera vaccination (OCV) campaign was launched on 6 May 2018 and was fully supported by the national health authorities in cooperation with WHO and UNICEF. It is the first time this has been done in Yemen.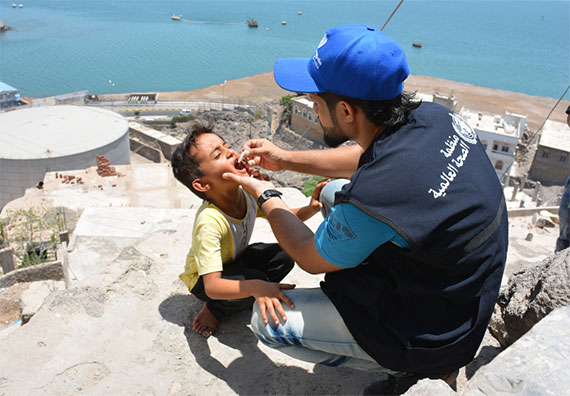 Almost 275 000 doses of OCV were administered in May across 5 priority districts in Aden. Nearly 70% of the target population successfully received OCV. Photo: Sadeq Al-Wesabi
Further OCV campaigns are planned for other priority areas across Yemen. Prevention and control measures are imperative to slow and ultimately contain the outbreak from spreading further.
The outbreak continues to threaten millions in Yemen
"As the third wave of cholera looms upon armed conflict-ridden Yemen, the uptake of this crucial public health tool is a vital and substantial prevention measure in the fight against this epidemic. In addition to conducting vaccination campaigns, an integrated comprehensive cholera outbreak response operational plan has been developed in cooperation with the health authorities and collaboration with health partners to implement activities regarding early detection, referral, case investigation and management, water and sanitation, health education, promotion and food hygiene," said Dr Nevio Zagaria, WHO Representative in Yemen.
The fight is far from over. The rainy season runs from mid-April to the end of August, which will further increase the risk of transmission. The epidemic continues to threaten millions in Yemen, especially pregnant women, the elderly, and small children like Mossaad and Baraa. Efforts are concerted to save lives of vulnerable population groups and get Yemen rid of this water borne but preventable disease.