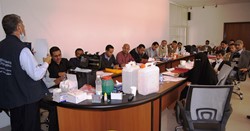 The training targeted 20 water quality technicians from Sa'ada, Amran and Sana'a governoratesSana'a, 9 February 2016 — The World Health Organization (WHO) concluded on 4 February 2016 a 5-day workshop to train 20 water quality technicians from Sa'ada, Amran and Sana'a governorates on the scientific methods of water chlorination and chemical and bacteriological examination of water during emergencies.
The participants were also trained and lectured on environmental health, waterborne diseases, sources of water contamination and types of devices and equipment used in water testing. The last day of the workshop was dedicated to practical training in some wells in Sana'a.
"It's very important to deal with the problems of water contamination effectively and rapidly to prevent these problems from being exacerbated," said Shehab Nasser, Director of the General Authority for Rural Water Supply Projects in Yemen.
Nasser acclaimed the crucial role of WHO in supporting the projects of water and environmental health during the current crisis which has exacerbated the health situation and increased waterborne diseases, such as diarrhoea, malaria, dengue and hepatitis.
Eng. Abdul-Malik Mofadal, the environmental health officer for WHO Yemen, said that this workshop would be followed by several training sessions targeting water quality technicians from other governorates to help control the water contamination, especially in the areas affected by the conflict.
In 2015, WHO responded to the dire needs for water supplies and provided more than 19 million litres of water for internally displaced persons (IDPs) and health facilities in all affected governorates. It has also provided chlorine tablets to disinfect drinking-water, hygiene supplies, jerry cans and water tanks to IDPs and host communities.