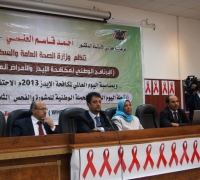 Sana'a, 10 December 2013 — The Ministry of Public Health and Population and the national AIDS programme, in collaboration with WHO Yemen, celebrated World AIDS Day by launching a national campaign for counselling and testing and holding several activities to mark the event.
Awareness-raising activities, a play and press conference were attended by representatives of the Ministry, WHO, UNAIDS, the World Food Programme, nongovernmental organizations, civil society organizations, the media and activists.
Dr Majed Al-Junaid, Deputy Minister of Health for Primary Health Care, said that, "The problem of HIV shouldn't be tackled only by the ministry of health only but joint efforts should be made by all health partners, civil society, private sector and international community".
In October 2013, WHO and UNAIDS issued an advocacy document which urged countries to raise the commitment to include all people living with HIV under the care and treatment.
Dr Osama Mere, WHO (medical officer) said on behalf of the WHO Representative for Yemen Dr Ahmed Shadoul that Yemen was making concerted efforts to fight HIV. "WHO has provided technical and financial support to the Ministry of Public Health and Population since 2005 to establish treatment and care centres, as well as training health workers and staff, including physicians, nurses, laboratory technicians and pharmacists. WHO has also supported the Ministry to develop national guidelines in treatment and care, counselling and testing, prevention of mother-to-child transmission and surveillance."
Dr Abdul-Hamid Al-Suhaibi, Director of the national AIDS programme, said that economic and political factors in Yemen, as well as lack of awareness about HIV/AIDS played a big role in exacerbating the problem. According to Al-Suhaibi, the total accumulative number of registered HIV/AIDS cases in Yemen had reached 3922, pointing to Yemen as a low prevalence country but with an estimated 35 000 people having the disease.