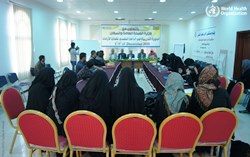 Sana'a, 9 December 2015 — The World Health Organization and the Ministry of Health held a 4-day workshop to train master trainers on mental health. The participating 25 health and community workers from Sana'a governorate representing the Mental Health Directorate, primary health centres, international, national and community-based organizations, are expected to integrate mental health in main stream health care systems.   
Disasters and crises do not kill or harm the people as much as compared to the aftermath. Amid the escalating conflict which has displaced more than 2.5 million masses since March this year, the increased mental stressed level requires comprehensive psychosocial support to address this detrimental issue in time. The overall objective of the training is not only to build the capacity of primary and mental health care workers but to enable them to replicate their enhanced capability in their respective area of work.
Mental health and psychosocial support is one of the essential components in the health service delivery and has significant impact in humanitarian crises. The stress of war and looming uncertainty, where thousands have been injured or died, the need is imminent and immense.  
"Our biggest task is to ensure that mental health is integrated into primary health care system given the challenges and psychosocial trauma, many Yemenis are currently facing," said Dr Ahmed Shadoul, WHO Representative in Yemen. "We hope to enhance and build enough human resource capacity during this period in mental health services at lower level health care centres and mobile clinics."
Scores of people in Yemen have mental health challenges but have limited mental health services at all levels. The much needed interventions remained out of focus in the past due to lack of sensitization.
"Currently, the country has only 40 psychiatric specialists and majority are based in Sana'a. Our strategic goal is to develop first level health respondents on how to manage mental disorders using the adapted Inter Agency Standing Committee (IASC) and Mental Health Gap Action Programme (mhGAP) intervention guide" said Dr Abdel Basit, WHO Technical Officer, spearheading the mental health interventions. "Our target is to train more than 500 health and community workers, with expects more than 20 000 indirect beneficiaries from all governorates," Dr Basit further explained, the training will continue in the country to anchor the mental health in all governorates and health facilities, including secondary level health systems to develop a comprehensive coverage. 
Actions
In accordance with WHO's operational guidance on mental health and psychosocial support programming in emergency response operations and WHO's Yemen Mental Health Plan of Action, it is anticipated that to support the country's emergency response to strengthen mental health care delivery within general health care  in community settings. This aligns closely with a more general goal to prioritize primary health care services in community and reduce referral health care within the framework of WHO's comprehensive mental health action plan. This will enable surging global interest by delivering mental health services, medicines and reaching to an estimate of 500 health facilities in high risk and effected governorates in Yemen, facilitating integration of services within national health systems.