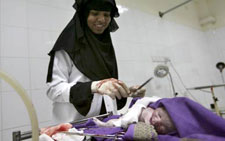 Midwifery services at a public health facility in YemenA reproductive health strategy (2011–2015) for Yemen has been developed with the support of WHO. It was prepared by a team consisting of two international consultants and one national consultant. It is a revision of the 2006–2010 strategy, based on discussions with all stakeholders and in working groups at the Ministry of Public Health and Population. A draft was prepared and discussed in two workshops, after which the strategy was finalized and endorsed.
The strategy highlights the main features of the current situation, identifies priorities and guiding principles, and sets out its vision, goals, objectives, prioritized strategies and interventions. There are two main strategic areas: maternal and newborn health; and family planning. The strategy also outlines the implementation mechanisms, a log fame and an operational plan with costings.
Partners
Alongside the Ministry of Public Health and Population and WHO, there are a range of international and national partners working on different aspects of reproductive health in Yemen. Most partners work in selected districts and governorates, with some overlap.
National partners include:
Islah Social and Charitable Society
Yemeni Family Care Association
Yemeni Midwives Association.
International partners include:
Deutsche Gesellschaft für Internationale Zusammenarbeit (GIZ)
European Union (EU)
Netherlands Embassy
United Nations Population Fund (UNFPA)
United Nations Children's Fund (UNICEF)
United States Agency for International Development (USAID)
World Bank.