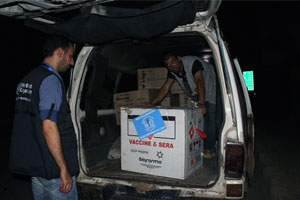 20 July 2017 - The World Health Organization (WHO) has successfully delivered more than half a million doses of polio vaccines to Deir-ez-Zor and Al-Qamishli in preparation for a one-week polio vaccination campaign. The campaign is planned to begin on 22 July targeting around 450 000 children aged under five years in rural Deir-ez-Zor, South of Al-Chadaddi area in rural Al-Hassakeh, and rural Ar-Raqqa governorate.
"This is an emergency campaign aimed at ending the circulation of vaccine-derived poliovirus type-2 in the area and preventing further spread to other conflict affected areas where children did not have regular access to polio vaccination," said Elizabeth Hoff, WHO representative in Syria.
WHO focal points in rural Deir-ez-Zor and Ar-Raqqa have conducted several meetings with community leaders and health staff to prepare for the mOPV2 campaign. Special efforts have been made to strengthening the capacity of the vaccination teams to carry out house-to-house visits in order to optimize the coverage of the campaign.
Twenty-seven cases of circulating vaccine-derived poliovirus type-2 have been confirmed in Syria; 26 cases are from Mayadeen district in Deir-ez-Zor Governorate and 1 case is from Tall Abyad Districts in Ar-Raqqa Governorate.
"No wild poliovirus (WPV) cases have been reported in Syria since January 2014", Ms Hoff added.