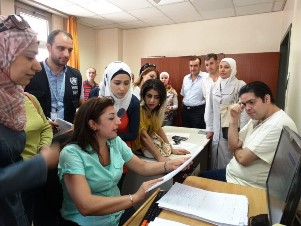 WHO HeRAMS assessment mission to a hospital in Lattakia22 March 2017 – Ongoing conflict in Syria has resulted in a weakened public health care system. In areas where violence is ongoing, some health facilities have been destroyed or are only partially functioning. As health needs increase, many facilities that remain open are overwhelmed, reporting shortages in health staff, medicines and medical supplies. Within this context, information on the status of health care is critical to identifying gaps and needs, and prompting an appropriate response.
In 2013, WHO Syria established a Health Resources Availability Mapping System (HeRAMS), an approach used for monitoring health care facilities, services and resources availability in an emergency setting. The system was implemented in all public hospitals and health centres, as well as clinics supported by the UN and nongovernmental organizations in all 14 governorates. Today, more than 2000 focal points in 111 public hospitals and 1787 public health centres across the country report to HeRAMS. This extensive network allows for successful reporting from 99.2% of facilities.
On 19–20 March, WHO and the Syrian Ministry of Health conducted 2 workshops for HeRAMS focal points at health district-level from all governorates (except Raqqa). Two additional workshops are planned to take place next week.
"As updates are made to the global HeRAMS, it is important that focal points are well-informed of all changes and able to accurately provide the required data. WHO will be holding a training of trainers workshop this year to expand the number of reporting officers across the country and also conducting training on statistical analysis. We also plan to migrate the existing system to a web-based reporting application. The goal is to transition from using the system for data collection, to being able to analyse the data in a more efficient and effective manner," said Ms Elizabeth Hoff, WHO Representative in Syria.
HeRAMS also provides up-to-date information on the functionality, level of damage and accessibility of health facilities, as well as the availability of health staff, especially in areas facing conflict.  This information allows factual decision-making on the relocation of facilities and health staff to areas that lack sufficient health care services.
"When one of the health care facilities in Aleppo was hit and went out of service, HeRAMS helped us assess the extent of the damage, and identify alternative health services for the affected community. HeRAMS data also helped us identify the type of rehabilitation required to resume the functionally of the damaged health facility," said Dr Samer El-Araj, head of the statistics department, Aleppo Directorate of Health.
According to HeRAMS data from February 2017, 56% of public hospitals and 53% of public health centres have either closed or are partially functioning, while 37% of public hospitals are inaccessible or hard-to-access due to the insecurity.
Related link