–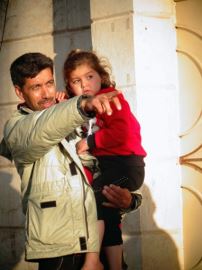 Ayham lives with his family on the outskirts of Damascus. They receive water only for 3 hours every 3 days. Photo credit: WHO Syria15 May 2015, Damascus – After 4 years of conflict in Syria, over 50% of the population does not have access to safe drinking- water and proper sanitation. The innumerable disruptions in water supply services and the significant increase of internally displaced persons have added additional burden on the water supply infrastructure. This has resulted in outbreaks of waterborne diseases, such as hepatitis A and typhoid, rendering millions vulnerable to life-threatening illnesses.
Ayham, a 42-year-old father of 3, fled eastern Aleppo a year ago when the violence escalated. He is sheltering in an apartment that includes 2 more families in the town of Jaramana on the outskirts of Damascus. "We are 11 people living in this 80 square metre flat" Ayham said. "It is not only limited in space, but also we have very little water for our daily use" he added. People in many rural areas in Damascus and Aleppo are receiving water supplies only for 3 hours every 3 days. 
Thanks to the generosity of the Government of Kuwait, much has been done to improve the quality of water for people in need. To date, over 5.2 million people have been provided with clean drinking water in Aleppo and Damascus.
WHO is working to improve the quality of and increasing access to drinking-water inside Syria by supporting laboratory capacity, water and environmental authorities, as well as nongovernmental organization partners. The project provides safe drinking water for at least 6 hours per day in economically deprived areas, so people like Ayham and his family are benefiting from this project.
"This invaluable partnership with the Government Kuwait is making a difference on the ground, helping the most vulnerable in this protracted violent conflict." WHO Representative to Syria, Elizabeth Hoff said. She added that by permitting access to safe drinking-water, we are reducing the risk of disease outbreaks and the loss of life and suffering that these bring." 
Drawing on the support of the State of Kuwait and other donors, WHO in collaboration with the Syrian Arab Red Crescent Society has established the Water Pollution Alert and Response System (WPARS), a national monitoring system that aims to alert water authorities on incidences of water contamination across the country to prevent the spread of water-related diseases.
The WPARS operates in a complementary approach with the Early Warning Alert and Response System (EWARS), by cross-checking disease alerts reported across the country. For example, the WPARS checks the quality of water in areas where waterborne diseases have been reported through the EWARS, and if water contamination is detected, the EWARS monitors for outbreaks of water-related diseases in the same area and applies the necessary measures.
Kuwait has become a key partner to WHO's endeavor to provide medicines and medical supplies. Inside Syria, more than 1.7 million people have been reached with life-saving treatments, including children with cancer. Also, Kuwait is considered as one of the top donors to the Organization's operation inside Syria with over US$ 26 million received so far. By the end of 2014, Kuwait contribution to WHO's operations in Syria and neighbouring countries reached more than US$ 45 million.
For more information, please contact:
Karim Shukr
Coordination Officer
Email: This e-mail address is being protected from spambots. You need JavaScript enabled to view it
Mobile: +963953888470