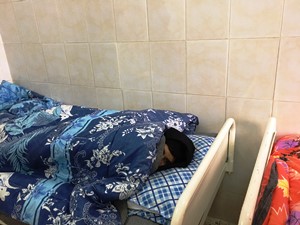 27 March 2017 – Forty-year-old Ghada* from Aleppo faced devastating loss after loss that led to her becoming acutely depressed. Just weeks after her home was destroyed in a shell attack, her father and brother were killed when a shell hit their building. Soon after, her son was kidnapped and she was forced to sell her destroyed home and land to secure his release. 
Ghada began displaying symptoms of extreme fear whenever she heard sounds of shelling, even those in the distance. She became extremely anxious whenever the phone rang, believing it was bad news about her kidnapped son. She also began hearing voices threatening to kill her children. Despite these worsening symptoms, Ghada never considered seeking help, believing her condition was stress-related and would eventually go away. Forced to live in poverty and in an insecure area, her main concerns were the safety of her children and finding food for them to eat.
While Ghada was visiting an nongovernmental organization clinic seeking follow-up care for a physical injury, a WHO-trained health worker recognized that she was displaying signs of severe depression. He spoke to her at length and convinced her to begin treatment. Soon after, her kidnapped son was released and Ghada was able to find a job to support her family. She continues to receive treatment for her depression, and doctors say her symptoms are decreasing. 
Pre-crisis mental health care services limited
The conflict in Syria is taking its toll on the population, with more people showing signs of mental health disorders, ranging from mild to severe. More than half of all Syrians are estimated to be in need of mental health and psychosocial support services, and one in 4 children is at risk of a developing mental health disorder. Unfortunately, in many cases, these conditions are often ignored or trivialized, sometimes resulting in serious long-term consequences. 
Before the current crisis, mental health care was institution-based, and there were no services available at the community level. Mental health care services were available in just 2 cities, and only 70 psychiatrists and a limited number of psychologists were available for a pre-war population of 22 million people. There is now a much greater need for mental health services, especially among children who have been exposed to unimaginable trauma, suffering or loss. As a result, it became increasingly important to make mental health services available in general hospitals and primary health care centers, and train health workers to identify, diagnose and treat patients, including those who may not even be aware of their mental health condition.
Availability of mental health care services increased
"WHO still faces a number of challenges in supporting mental health care services: psychotropic medicines often continue to be removed from aid convoys going to hard-to-reach and besieged areas," said Elizabeth Hoff, WHO Representative in Syria. "As a result, access to psychotropic medication needs to be improved in these areas. Shortages in specialized mental health professionals remain. While anxiety and depression are now more openly discussed, the stigma of mental illness is still high and contributes to limiting access to services."
Despite many challenges, mental health services are becoming more widely accessible throughout Syria with support from WHO. For the first time in the country, mental health services are available at more than 150 primary and secondary health centres in 11 governorates, including those most affected by the crisis. Services are provided by about 1000 non-specialist general practitioners under the supervision of national specialists, all trained through the WHO Mental Health Gap Action Programme. Psychotropic medicines provided through WHO are available at all health-care levels. To fill gaps in qualified staff, WHO has trained more than 2000 health workers on psychological first aid and more than 60 psychologists on psychotherapeutic interventions. WHO has also established inpatient units for mental health disorders for the first time in general hospitals in Damascus, Hama and Lattakia. 
According to national estimates, more than 100 000 people received mental health consultations throughout Syria in 2016. This number is expected to be much higher as it does not include consultations provided in facilities supported by NGOs and other organizations providing mental health care services.
Activities to enhance mental health care services ongoing
WHO continues to pilot a SelfHelp+ programme to reduce the burden of mental health problems among Syrians, especially those living in areas where services are not available or easily accessible. The programme consists of a self-help book and an audio script that enables people to self-manage distress.
A school mental health package is being developed by WHO to help teachers and social workers detect mental health disorders, conduct basic interventions and refer students to a specialist. WHO is also working with nongovernmental organizations who manage 3 community centres in Aleppo to provide mental health and psychosocial support services, with special focus on women and children. A project to support the well-being of health workers is also underway.
To continue filling gaps in staff shortages, trainings courses will be conducted for more than 300 health professionals, and refresher and follow-up trainings for previously trained health workers will take place as part of WHO's Mental Health Gap Programme. Capacity-building will also take place for health workers on the reproductive health and mental health of survivors of gender-based violence in several nongovernmental organizations in Aleppo, Damascus, Rural Damascus, Homs, Hama, As-Sweida'a and Lattakia.
"Despite our achievements and ongoing work, a significant number of Syrians suffering from mental health conditions remain undiagnosed and untreated. WHO remains committed to responding to the mental health and psychosocial needs of the Syrian people, and will continue to provide urgently needed support to scale up services to cope with emerging needs," said Hoff.
* Not her real name.