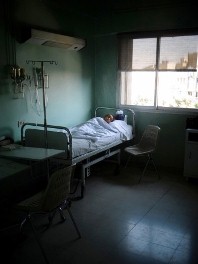 5 year-old Islam was one of the first confirmed polio cases in Syria5 March 2014, Damascus – In an isolated room on the fifth floor of the children's hospital in Damascus lay 5-year old Islam Hameed. She was one of the first confirmed polio cases identified in Syria last October.
Islam, who lived with her parents, five sisters and three brothers in the village of Tayaneh in Deir ez-Zor province, was brought to the hospital late last October after she lost the ability to move, "we went to a clinic… we thought she had a cold," her mother Eida said.
A clinician gave her some medicines and next morning she was unable to move her right leg. "The doctor told us to go immediately to the capital," the mother recalled, "a man from the clinic told me that similar cases were seen in our village…maybe due to the ongoing oil refining operations."
As of 6 March 2014, 25 polio cases have been confirmed in Syria, of which 17 were reported in Deir ez-Zor governorate. All children were very young and many aged 2 years or under, and were found to be un- or under-immunized.
Before the conflict, more than 91% of Syrian children were immunized against polio. The coverage has subsequently decreased to an estimated 68% in 2012, leaving as many as 500 000 children unprotected against the poliovirus.
"I have nine children and only six of them have been fully vaccinated: the others have been either partially or not vaccinated at all," Eida said. Islam has received only three vaccines since she was born in 2009.
Poliomyelitis, which causes symptoms in about 1 person out of every 200 infected, is a highly infectious viral disease that can cause irreversible paralysis or death. The virus mainly affects children under five years of age, spreads easily and across large distances and is transmitted through contaminated food and water. Syria used to be a polio-free country: prior to this outbreak, the disease had last been reported in Syria in 1999.
"Islam's condition deteriorated dramatically," said Dr Fadel Husrom, resident medical doctor at the children's hospital who has followed Islam's case since the beginning. "When she arrived to the hospital she was not able to move her legs and within only 48 hours she also lost the ability to move her hands and proceeded to experience talking and swallowing difficulties."
A series of vaccines can protect a person for life, but children under five years who have not had the full vaccination course are vulnerable to the disease. In Syria, this represents many children. The threat posed by polio adds to the potential suffering of this already exposed group, many of whom are displaced.
"My eldest son called to tell me about a vaccination campaign that was just launched in our province. I told him to vaccinate all the children," Islam's mother said. "Today, I realized the importance of vaccination -- some life lessons can only be learned the hard way."
Since the onset of the outbreak, comprehensive efforts by the World Health Organization (WHO), UNICEF and other UN agencies have been targeting more than 2.6 million children inside Syria. Four months into a six-month strategy to put a stop to polio in the Middle East, the number of Syrian children receiving the vaccine with each immunization round is increasing. During the third round in February, the campaign exceeded the 2.6 million target and reached 2.7 million children, recording the highest coverage since the launch of the response efforts.
With fear of losing Islam, Eida describes her daughter as smart, confident and full of life, "Every day she tells me: 'Mom, let's go back home!'. I am scared".