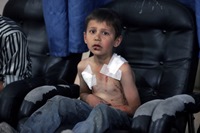 The health sector is requesting over US$ 317 million to continue providing life-saving assistance to the affected population inside Syria. Photo credit: WHO/B.Khabieh19 December 2014, Damascus – On 18 December, donors gathered in Berlin and pledged their support for critical aid efforts needed to help people affected by the prolonged violent conflict in Syria.
For 2015, WHO Syria will require over US$ 116 million to continue to provide life-saving medical treatments and improve access to health services across the war-torn country. "Without these resources people will be unable to access life-saving medicines, medical supplies and equipment," said Elizabeth Hoff, WHO Representative to Syria. She added that the needs were sharply increasing and the lives of thousands of Syrians were at danger.
The Syria Response Plan 2015 incorporates, for the first time, a whole of Syria approach by bringing together humanitarian actors working inside Syria and in neighbouring countries under a single framework to increase the effectiveness of the response. Health partners are requesting a total of US$ 318 million, 182 million of which is for inside Syria.
Health concerns have been consistently cited as the primary concern of the increasingly vulnerable people in need in Syria, with 12.2 million in urgent need for humanitarian assistance inside the country, 7.6 million of which are internally displaced persons, while 3.2 million are refugees now sheltering in neighbouring countries. In September the United Nations Economic and Social Commission for Western Asia (ESCWA) estimated that 90% of Syrians will be poor and 60% will not be able to secure their own food requirements if the conflict continues in 2015.
Since the inception of the conflict over 200 000 people have been killed and approximately 1 million injured, while access to health care services has been hindered by the escalation of the violence as functioning facilities are unable to cope with the increasing needs of affected populations in conflict areas. Moreover, the quality and equity of provision of services in public health facilities have been significantly affected with 57% of public hospitals reported partially functioning or completely out of service. The limited availability of health services in some parts of the country requires patients to travel 20–160 km to reach the nearest hospital, while referral services are frequently not functioning.
In 2014, nine donors contributed a total of US$ 62 million to support WHO's operation inside Syria. The funding helped to fulfil critical medical assistance efforts listed under the 2014 Syria Humanitarian Assistance Response Plan (SHARP) to reach over 9.3 million people with provision of life-saving medical services.
"WHO has praised the international community including the governments of Kuwait, Saudi Arabia and United Arab Emirates for their continuous support to WHO's operations inside Syria over the past years." said Hoff.
This year, WHO delivered over 13.5 million medical treatments to people in need across the country, more than 30% of the deliveries were distributed to hard-to-reach and opposition-controlled areas, moreover, the Organization mobilized over 17 000 health care workers to vaccinate over 2.9 million children against polio through 10 immunization campaigns.