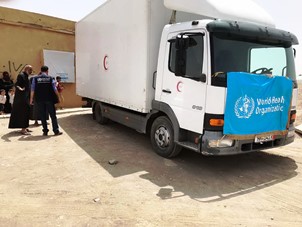 Medical shipment to Ain-Issa camp, north rural Al- raqqa
22 June, 2017 – The World Health Organization (WHO) has responded to an acute shortage of life saving medicines by dispatching a shipment of more than 12 000 treatments to the 2 main camps for internally displaced persons in rural Al-Raqqa. This shipment will support treatment of patients with chronic conditions, infectious diseases and diarrhoeal diseases who lack adequate access to medical care.
"We are eager and committed to deliver regular health assistance to people in all locations and presently for the civlians in the eastern and northeastern areas in Syria where the needs are pressing," said Ms Elizabeth Hoff, WHO representative in Syria.
Al Karameh camp in rural Al-Raqqa governorate hosts more than 35 000 children, women and men while Ain-Issa camp hosts more than 3500.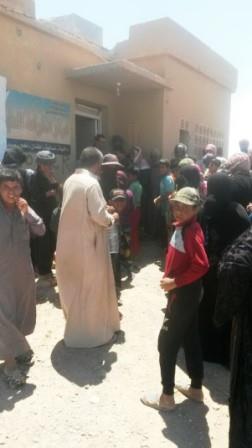 Medical shipment to the medical center at Al-Karameh camp in north esatern rural Al-RaqqaWHO with partners are implementing a response strategy to improve the health conditions of  thousands of women, children who fell victims to the eruption of fighting and intensified violence in their areas. "WHO will continue to enhance the provision of lifesaving health supplies to save more of the lives of the IDPs across the country," Hoff added.
Related link
WHO mobilizes health response for Ar-Raqqa, Syria
23 May 2017