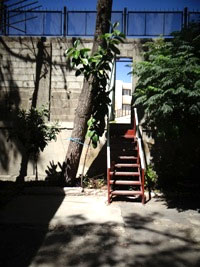 Improvised back entrance to Ibn Rushd hospitalOne day we found him on the roof, his face was scratched with a sniper bullet, luckily it was not dangerous," says a tearful woman to the admissions officer at Ibn Rushd Hospital, on the outskirts of Damascus. Her son Noor is 30 years old and has schizophrenia. He lives with his family in Barzeh, a suburb of the Syrian capital, which has been the scene of fighting since 2012.
Noor's penchant for putting himself in harm's way is not their only problem. "It is so difficult to live with his illness. Sometimes I believe it is me who is mentally ill," his mother explains. Noor will be admitted for psychiatric treatment. He and his family are among the fortunate few accessing such care.
Ibn Rushd Hospital, formerly a substance abuse treatment centre, is now admitting patients with psychiatric conditions, since this type of service is becoming increasingly scarce. Situated near the conflict zone, the hospital has had to make some adaptations, like improvising a back entrance because the main gate was too exposed to gunfire.
"We are currently the only facility in Syria where people with acute psychiatric conditions are treated for up to a month," says Dr Jalal Sharba, director of the hospital. "So far we have managed to provide treatment and medicines for free, but it is very difficult to keep up with demand, and we are running low on medicines."
Even before the conflict, mental health care was in short supply in Syria, whose 21 million people were served by only 70 psychiatrists. There were only two public psychiatric hospitals. One is located in a rural area outside Damascus but now operates with limited capacity because of security concerns. The second one, in Aleppo, has closed its doors.
Local production decreased significantly and medicines on the black market are too expensive. For example, phenobarbiturates, used in epilepsy or in bipolar disorder, cost almost 30 times more than those that have been produced in Syria before the conflict.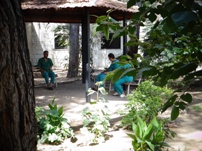 The hospital has 51 bed and patients can stay up to a monthWith 51 beds and about 30 consultations per day, Ibn Rushd covers only a tiny fraction of the need in Syria. Only people from the capital can reach the hospital. People in the rest of the country, especially those living in areas hardest hit areas by conflict, are virtually without mental health services.
"Most of the people who were in treatment for mental health conditions before the conflict are trying to continue their treatment by consulting their doctors by phone and buying what medicines are available on the market, but many have had to stop the treatment altogether," says Dr Eyad Yanes, who works in the mental health programme of the Syrian office of the World Health Organization (WHO).
International agencies and nongovernmental organizations (NGOs) are striving to provide psychosocial support for people whose mental health has been affected by the conflict. "The problem is that there is not enough capacity for further interventions," Dr Yanes says.
WHO is advocating for integration of mental health into provision of basic health services. From November, a number of doctors working with NGOs will be trained to diagnose and manage mental health conditions or to arrange referrals when specialized services are available. Selected staff working in primary health care will be trained to provide psychosocial support.
Looking to the future, however, there is a clear need for expansion of specialized mental health services in Syria. Meeting 44-year-old Ayman, who has been treated for schizophrenia in the hospital for the past two weeks, the benefits of such care become clear. "I feel much better since I've been here," he says, and he appears well indeed.
Related link