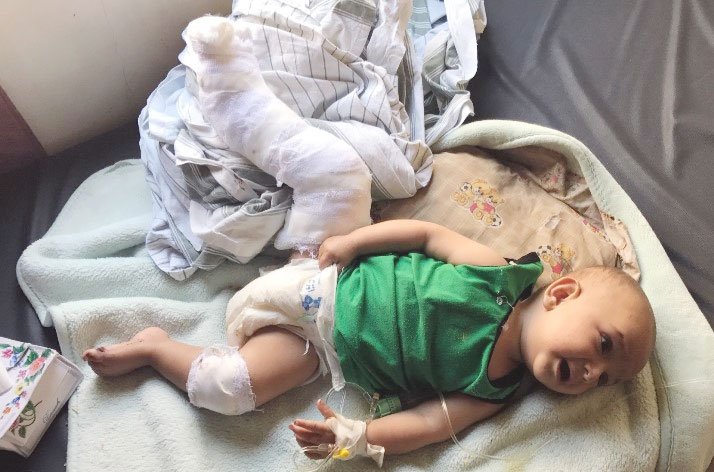 5 July 2017, Damascus, Syria – One-year-old Mohamed was lying on a mattress near a window at his home in his village, 10 km west of Deir-ez-Zor, when an airstrike hit his neighbourhood. When his father heard the screaming, he rushed to help and saw that his son's leg was badly injured. Mohamed needed urgent medical care, but what made things worse is that there was no functioning hospital nearby due to the ongoing conflict.
"It took us three days to reach Al-Areisheh camp in neighboring Al-Hasakeh governorate, travelling in terribly hot weather. I was determined to save not only my son's life, but also the lives of his aunt and an eight-month-old baby who were also badly injured," said Abdulkarim, Mohamad's father. "When we arrived, we were met by a medical team from an NGO who transported us to Al-Hayatt hospital and made sure that my son received the treatment he needed at no cost."
The hospital's surgeon, Dr. George, said the medical team had to exert tremendous efforts to avoid amputating Mohamad's leg. "We are optimistic that he is getting better. Our hearts are broken by the sight of innocent civilians who are constantly referred to this hospital, suffering from serious injuries, many of them young children," he added.
"Living in Deir-ez-Zor means that you hope to be granted a new life every morning, a blessing from God. You never know when and where you will be hit, as happened to me and my family, when the gunfire hit our house," said Abdulkarim.
To help trauma patients get the life-saving treatment they need, WHO is working with nine local health NGOs to refer patients from Deir-ez-Zor and Rural Ar-Raqqa governorates to hospitals in Al-Hasakeh Governorate for comprehensive health care. In 2016, these NGOs provided medical support for more than 13,000 patients, the majority of whom were from Deir-ez-Zor and Rural Ar-Raqqa.
"We are working closely with local health authorities and humanitarian partners to respond effectively to the increasing health needs of the injured across the country, particularly in the east and the north east of Syria," said Elizabeth Hoff, WHO Representative in Syria.
WHO's trauma activities in Syria are made possible by the continued support of ECHO, USAID, and Norway.