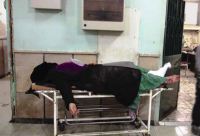 The crisis has disrupted health care services and led to dire shortages of essential medicines, supplies and health care workers, especially those trained in emergency care. Photo credit: WHO/Aleppo.7 July 2014 – The violence in the Syrian Arab Republic has continued to escalate in the last few months. The past three months have been marked by continuing conflict, with pockets of sustained high-intensity fighting.
There have been no major changes in the balance of power in the central and southern regions, in spite of government gains in these areas. Opposition groups continued to fight the Syrian Armed Forces (SAF) along the main highway linking Syria's major urban centres, from Aleppo to Dar'a, while combat between armed opposition groups, including the Islamic State of Iraq and Levant and Kurdish forces continued in the east and north. Clashes in frontline areas (including Dar'a, Deir ez-Zor, Rural Damascus, Homs and Aleppo) have led to new large-scale displacements and a worsening humanitarian situation.
The number of people in need has increased significantly due to barriers accessing humanitarian assistance, reduced agricultural production, scarce employment opportunities, decreased purchasing power, and exhausted coping mechanisms.
Read the latest donor update, April–June 2014 [pdf 1.13Mb]
Previous donor updates
Donor update: Syrian Arab Republic,  January–April 2014 [pdf 182Mb]
Donor update: Syrian Arab Republic, 9 April 2013 [pdf 133kb]