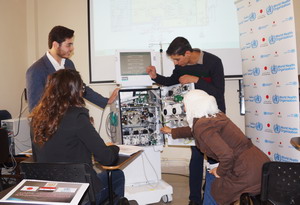 WHO, in cooperation with the Government of Japan is training the medical engineers who will be using the equipment. All photos: WHO Syria 20183 September 2018, Damascus, Syrian Arab Republic – The World Health Organization (WHO) welcomes the generous donation from the Government of Japan which has enabled WHO to procure advanced medical equipment. The equipment, worth over US$ 12 million, is the largest donation received by WHO in Syria. It includes magnetic resonance imaging scanners, ultrasound machines, echocardiography equipment, X-ray machines, respirators and other items. WHO in Syria will distribute the equipment to public and university hospitals throughout the country.
A warehouse contains advanced medical equipment donated by the people of Japan to the people of Syria
In a pioneering initiative, WHO, in cooperation with the Government of Japan, is also training the medical engineers who will be using the equipment. More than 250 medical engineers working in public hospitals have been trained over the past few months. Through this comprehensive approach – giving hospitals the equipment they need and making sure they have the skills and resources to maintain it – medical staff will be able to accurately diagnose and treat patients throughout Syria, with the ultimate goal of saving more lives and improving the health outcomes of critically ill and wounded patients.
WHO Representative for Syria Elizabeth Hoff with representatives of Ministries of Foreign Affairs, Health, and Higher Education at the handover ceremony of medical equipment donated by Japan to the people of SyriaSpeaking at the handover ceremony in Lattakia governorate, Ms Elizabeth Hoff, WHO Representative in Syria, conveyed WHO's thanks to the Government of Japan. "Health needs in Syria are continuing to increase. This latest donation from the people of Japan will improve diagnostic services and patient care in public hospitals, and will benefit hundreds of thousands of Syrians," she said. "Cooperation between WHO and Japan in Syria is relatively recent, but its impact has already been felt."
As the Syrian crisis moves into its eighth year, WHO continues its humanitarian work in cooperation with its partners to improve the public health system and support health care services for people-in-need all over the country.