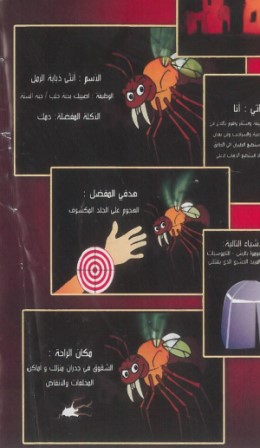 A comic book about leishmaniasis is distributed to children in Syria
23 October 2017 -- "We call it 'Aleppo boil,'" says Marouf Abiad, a medical worker living near northwest Syria, about the severe skin lesions caused by leishmaniasis. "In Iraq, it's called 'Baghdad boil."
Leishmaniasis is a little-known disease endemic to the Middle East and transmitted by the bite of tiny sandflies. Before the Iraqi and Syrian wars, insect spraying and other precautions kept this painful, disfiguring disease at bay. In recent years, however, thousands of cases have been recorded in Syria alone.
"There's a lot of destruction, a lot of rubble because of the war," says Abiad. "There are lots of places for these sandflies to live."
The miniscule disease-carrying flies also thrive when sanitation systems are compromised. "There's no proper waste management" in parts of Syria," says Dr Mohammed Sareer. "The garbage is where they prefer to breed."
"Stray dogs, rodents and foxes can be a source," adds Abiad. "Sandflies need human, animal or bird blood to mature their eggs."
Both men work in southeastern Turkey for the Mentor Initiative, a health organization that focuses on diseases transmitted by insects. Following WHO protocols, Mentor works to prevent and treat leishmaniasis — especially because it often affects children.
Leishmaniasis is curable, but "people often come for treatment when the disease has progressed. Then there can be scarring," says Dr Tasnim Atatrah of WHO's field office in Gaziantep, Turkey. "I remember one girl. I still remember how beautiful her face was. The lesion was right on her nose."
Cutaneous leishmaniasis, which affects the skin, is disfiguring and painful. Visceral leishmaniasis is far less common but far more deadly for babies and small children. 
"What really worries us is the visceral kind. It's a killer," says Abiad. "It targets infants. The symptoms are flu-like."
To keep sandflies from biting people, Mentor distributes small-mesh nets to camps where displaced Syrians arrive, as well as host communities. The small mesh is necessary because the sandflies are only 2 to 4 millimetres wide—one third the size of a regular mosquito. "Mosquito nets won't be effective," says Dr Sareer.
Spraying insecticide onto walls kills the tiny flies hiding in the cracks. "The net distribution is easy. The headache is spraying. It's highly effective but expensive," says Muhammad Hadiban of Mentor.
Mentor informs communities before their spraying campaigns begin. "We hire local workers and train them," says Sebnam Koc of Mentor. "And we get beneficiaries to talk to others."
"The spraying team comes to the house and says who they are and what they're doing," says Dr Sareer.  The spraying involves shifting furniture next to every wall. "When you spray a room, you move everything. That's WHO protocol."
"The sandfly sits on a sprayed wall," explains Dr Sareer. "The chemical attaches to it, and the insect is paralysed." The spray has a residual effect of 9 months.
"Thank goodness, we don't get many refusals – only about 2%," continues Sareer. But in a conflict-torn country, "it's not a priority for the people. Surviving bombardments, finding something to eat, that's what they are focused on."
Mentor is also fighting other aspects of wartime disease transmission: when Syrians flee their homes because of bombing and travel long distances, they may carry leishmaniasis to new communities. "One of the biggest challenges is movement. We're looking at hourly movement, not daily movement," says Habidan. 
From 2014 to 2017, WHO has supported Mentor's work in Syria by providing rapid diagnostic tests and medicines like glucantime, which is the first line of treatment. Through special leishmaniasis clinics and training of health workers to recognize the diseases' symptoms, Mentor has prevented leishmaniasis in tens of thousands of Syrians, and treated thousands who contracted the disease.  
WHO's work to treat and protect people in Syria from leishmaniasis is generously funded by the United Kingdom Department for International Development (DFID).
Related links